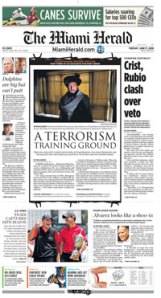 More layoffs in the newspaper industry. This time it's 1,400 workers at The McClatchy Company according to The New York Times' Richard Pérez-Peña. That staggering figure accounts for 10 per cent of the company's staff.
As Mr. Pérez-Peña reports, "The deepest cut will hit The Miami Herald, one of McClatchy's largest papers, which told its staff on Monday that it would eliminate 250 jobs, or 17 percent of its work force."
Here's how The Miami Herald's John Dorschner reported it:
Hammered by the financial problems facing newspapers across the country, The Miami Herald Media Co. announced plans to reduce its workforce by 250 employees—17 percent of its staff.
"This is a painful but necessary step," Publisher David Landsberg wrote in an e-mail to employees. Because of a dramatic reduction in revenue, "we're operating in a time of great change and challenge for our operations."
According to Mr. Dorschner, "The reductions will come from a combination of eliminating open positions, voluntary buyouts and layoffs. Affected employees will receive severance packages." He goes on to quote McClatchy's Chief Executive Gary Pruitt saying, "The Miami Herald's performance has been worse than most, if not all, of the newspapers, and . . . there were some opportunities for greater efficiencies."
In the same section of the Herald, today, Rachel Beck and Matthew Fordahl of the Associated Press have a story headlined "CEOs Are Spared the Economic Pain" with the subhed, "Despite the mantra of pay for performance, many CEOs saw their multimillion-dollar pay soar while their companies' stock tanked."