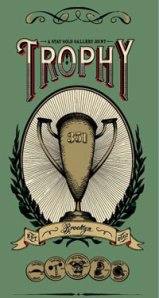 Today's award for Best Intentionally Hilarious News Story goes to The New York Times' Cara Buckley for her Metro story, "A Night Out That Became a Night In. In the Bar."
After a slightly bumpy lede that loops in R. Kelly's "Trapped in the Closet" and the tale of Nicholas White, the guy trapped in an elevator for 41 hours, Ms. Buckley recounts the story of Brooklyn's Kyle Hausmann, "a mild-mannered paralegal who recently found himself locked in a Brooklyn bar" with perfect pitch.
Read the whole Kafkaesque tale to see how Mr. Hausmann escaped Williamsburg's Trophy Bar, including a call to one of the owners' mother in Las Vegas, calls to some very sleepy friends in Bed-Stuy, googling "what to do if you get locked in a bar," and a quick cat nap on the bar's patio. "My working theory was that I had gone down a wormhole," Mr. Hausman told The Times. "Someone pointed out that perhaps I had gone to Narnia. But I would've remembered Narnia. So it must've been a wormhole."