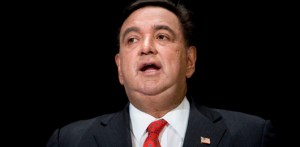 Bill Richardson thinks that when it comes to Barack Obama's position on Nafta, an agreement which he calls "a plus, a slight plus, at least for my state," voters should look at Illinois Senator's record.
"He voted for the Peru Free Trade Agreement," said Richardson, who immediately proceeded to make it clear that he was in no way speaking for Obama or his campaign. "You've got to be realistic," he said, and "you've got to deal with globalization."
Richardson said that during his ill-fated candidacy, he became more aware of the antagonism to Nafta in the Midwest, and the anxiety about free trade among the middle class around the country.
"I'm a free-trade Democrat. I'm also an endangered species in the Democratic Party," said Richardson.