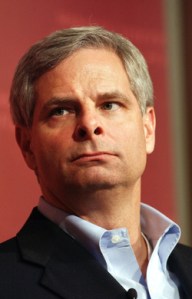 The McCain campaign has posted an on-line "strategy briefing," in which campaign manager Rick Davis uses a series of charts and maps to paint a rosy picture of the G.O.P. candidate's fall prospects.
About five minutes into the slideshow, Davis turns to the electoral map and highlights what are matter-of-factly labeled the "solidly Republican states."
"Today," Davis says, "we start with 17 states that are historically Republican states. They represent about 153 electoral votes." Then Davis highlights 24 states that, he claims, will make up the fall battleground.
The problem? One of Davis' "solidly Republican" states is Virginia. While it's true that the Old Dominion hasn't sided with a Democratic candidate since L.B.J., Obama – who launched his post-primary campaign in the state last week – is set to make a concerted push there this fall, and polls already show an even race.
As I've written before, Virginia, given its recent electoral history and the continuing growth of its population in the more moderate and liberal suburbs and exurbs around Washington, represents the future for national Democrats. Perhaps McCain will end up carrying it this fall, but it is not a "solidly Republican" state – and should not be considered part of McCain's ironclad electoral base.
But don't take my word for it. Here's what Rick Davis – the same McCain campaign manager whose slideshow treats Virginia like a foregone conclusion – told the Washington Post about Virginia (as repeated in Newsweek): "I think it is a battleground state. I know they are targeting it, and we are certainly targeting it."