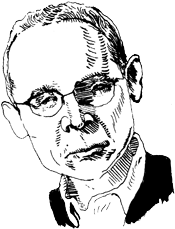 This morning in a classroom at the CUNY School of Journalism, Robert Thomson gave his first public speech as managing editor of The Wall Street Journal at a kick-off event for a conference for South Asian Journalists Association.
In Mr. Thomson's remarks, and in a question-and-answer session that followed, he said The Journal would most likely move to News Corp.'s headquarters next spring, wsj.com would be redesigned in the fall and that, yes, The Journal is still a business paper.
"Is The Wall Street Journal a business newspaper? Of course it is. The first thing we did was increase the international coverage. One of the real, real disadvantages we had against The New York Times and The Financial Times, until recent weeks, is that they clearly had global coverage; they were there every day and it was regular. And there were days we only had a couple of international stories. That's not because people at The Journal weren't interested in the world. That's just because they didn't have the investment in newsprint to run those stories. Four pages a year costs about $6 million. That's an investment in $6 million in print at a time when most newspapers are in a spiral of decline. There isn't a businessperson in American who doesn't need to know more about the world. So rather than subtracting from the business coverage, having that kind of content is adding to the business reader's experience."
That's the first time he has explained what the $6 million investment in foreign coverage actually meant (he first brought it up in an interview with Tim Arango in The Times in April).
Here's Mr. Thomson on various other topics:
The future of the paper: "The print version of The Journal is going to be around for a very, very long time. The doomsdayers are just wrong, completely wrong. Our sales are increasing and they're only increasing because of the reason you mentioned–serious political coverage, serious international coverage, serious science and health coverage is in decline. There just aren't as many specialist journalists writing about those things in newspapers. There's an opportunity here."
On Rupert Murdoch: "Rupert is passionate about newspapers, he's passionate about news. What we are experiencing at The Wall Street Journal is the articulation of that passion. He supports the editorial expansion that we're doing; he supports the building out of the Dow Jones wire services. That's because he believes in newspapers, he believes in journalism and he believes in The Wall Street Journal."
The length of stories: "You all have to ask yourselves how much of the paper do you actually read each morning? Really? Do you read all of it? A third of it it? A quarter of it? How many times do you put something aside and say, I'll really get back to that. And how many times do you actually go back to it? That's a hard question for a journalist to ask himself or herself. But it's a question we must ask now."
Obviously this is a touchy subject for Journal staffers. Mr. Thomson and Rupert Murdoch have been making this same point for seven months now: Stories should be faster, quicker, newsier ("more scoops" is how most Journal reporters have come to interpret it). With that, Mr. Thomson called Kate Kelly's three-part Bear Stearns "brilliant" and said that it easily could have gone on for "five days." He praised long-form journalism extensively, so to an extent, he was speaking out of each side of his mouth.
On the Web site: "The Journal is much more conscious of things like search-optimization and much more aware—and we'll begin to institutionalize this in the autumn—of what should be free and of what should be paid for."
The next part of my tape is inaudible, but here's how he broke it down. He explained that some content should be paid for, especially content for a business user who needs information about, say, foreign markets. Otherwise, though, a lot of the material should be free and it should be a "pleasing experience based on the Freudian pleasure principle rather than the Freudian irritation principle which seems to be the cornerstone of many paid-for sites at the moment. If you click on something, you can read it, rather than being introduced to a barrier." He said the Web site would be redesigned and relaunched in autumn.
On increasing arts coverage: "What we do with Saturday in the long term, I think, is reflective in our commitment to arts and culture coverage in the long term. We plan to invest. We're looking at Saturday more closely in the coming months and a close reader would see an increase in arts coverage."
Afterward, I asked him if he would formally name a No. 2 deputy editor. He said that Mike Miller is it. So for those expecting Washington bureau chief John Bussey to be announced as his deputy, it doesn't appear that it's happening.