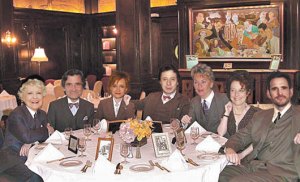 Morgan Freeman and his wife, Myrna Colley-Lee, were the first to arrive. They stepped out of a town car in front of the French restaurant Tocqueville on East 15th Street and made their way to the empty bar area. Neither knew what to expect; the hostess, Ruda Dauphin, had called it a "salon." They were offered flutes of Ruinart champagne; the Oscar winner asked for vodka on ice.
Ms. Dauphin is a petite, stylish but tough lady who grew up in Brooklyn. Her father was in the shmatte business. She wanted to be an actress, and she married the director Claude Dauphin and they moved to Paris. She misses it every day.
"It was the late '60s and '70s. It was wonderful," said Ms. Dauphin a few days before the salon over a Scotch at a diner around the corner from her Upper East Side apartment. "I was very fortunate; I lived on the Saint-Louis. And I lived on Rue Royal so my local bistro was Maxime's, and Le Royal." James Jones, who wrote From Here to Eternity, lived next door; he and his wife were great entertainers. They had a pulpit that they used as a bar, and everybody came: The Kennedys, Shirley MacLaine, Sinatra, Gore Vidal, James Baldwin. "It was a melting pot of brilliance," said Ms. Dauphin.
She's been hoping to relive the Rue Royal with bimonthly celebrity dinners she's been hosting for the past two years. The restaurant Tocqueville provides free food; the Champagne's free, too. The night Mr. Freeman came, best-selling novelist Richard Price also showed up. "I thought a salon is basically people hanging around a rich but bohemian room with a lot of pillows. And a hookah pipe," Mr. Price said a few days later. "The only salons I know are the Koreans. Nobody there was uninteresting, that's for sure. It's just strange. I was sitting across the table from Morgan Freeman, who I'd never met. It's like sitting across from a movie screen."
Mr. Price said he met Ms. Dauphin a few years back at a film festival in Turks and Caicos. It had been a very bizarre experience. Since then, she's sent him the occasional invite to her salon. She's had about 12 now; he finally decided to attend.
Ms. Dauphin met Mr. Freeman in France, at the Deauville Film Festival, which employs her as its U.S. representative/celebrity wrangler. It's not an easy task, getting all these big shots with crazy schedules to pencil in an evening for dinner with a bunch of strangers, for no real reason.
"At first they say, 'Oh, I'd love to, but I'm doing a film, I'm doing this or that,'" she said. "If you keep after them well enough, eventually they will come. They do come."
She works out of her apartment promoting the Deauville Film Festival and several other festivals around the world. She's a regular at Elaine's. She goes on dates sometimes, but don't try to put a ring on her finger, like one Polish journalist did a little while back. She's done with marriage.
"You have to be patient, and you have to be insistent, too," she said of her methods of coaxing people to come to her salons. "You have to say, 'O.K., I'll wait for you,' and it's usually worthwhile, it really is."
As he sipped his vodka at Tocqueville, Mr. Freeman said he was looking forward to meeting mystery author Walter Mosley, who was supposed to be coming.
Mr. Mosley declined at the last minute; Ms. Dauphin was very upset. But soon enough, the guests trickled into the cushioned bar area: actress Debra Winger, Mr. Price, novelist Michael Cunningham, rogue actor Matt Dillon, and Marion Wiesel, wife of writer-and-Nobel Peace Prize winner Elie Wiesel.
"I believe this is a first," said Mr. Freeman, extending his long arm and open hand to the actress Swoosie Kurtz. He raised his brow and smiled broadly, as she cradled his hand with both of hers, and then kissed his cheek.
They spoke of their mutual admiration for each other's work. She mentioned her TV show, Pushing Daisies, was about to start filming again; he would be on Broadway, in The Country Girl, for the next couple weeks. They talked about the threat of a Screen Actors Guild strike.
"If there's a strike, then that's it," said Mr. Freeman. Ms. Kurtz nodded vigorously.
Ms. Dauphin was taking it all in. She said that after one of her salons, "Everybody stood up and said, 'When can I see you again, can you come to this, can you come to that, can I invite you to the theater?' I get high on people, I don't need drugs. When I'm in a group like that, I feel like I'm flying, and I think they do, too. … It's all about the mix."
Elaine Stritch walked in and took up a post at the corner of bar. She was wearing a black vest, white blouse, black sailor cap turned rakishly to one side, oversize glasses. She wanted a Diet Coke: "In the can!"
"What is this?" Ms. Stritch said bluntly to Ms. Dauphin, looking over her dark glasses at the host and then around the room. "'Cause I don't know?"
"What do you mean?" said Ms. Dauphin. "It's a dinner."
Ms. Stritch smiled. "I'm just pulling your salon leg."
Meanwhile, Mr. Price and Mr. Freeman were sitting across from each other at the south end of table, discussing Mr. Freeman's role a number of years ago in all-black version of the Greek play Gospel at Colonus, a performance that Mr. Price called "one of the great thrills of my life." Mr. Freeman was delighted to learn that Mr. Price had written some episodes of The Wire.
Down the table things got tense when someone asked Marion Wiesel what she thought of Barack Obama.
"I think he's arrogant, pompous, and I don't like him," she said.
"No more politics, please," Ms. Colley-Lee told me out of the side of her mouth.
Then Mr. Cunningham, who wrote The Hours, stole the spotlight with the sordid history of his young adult life, from Stanford University to being a male hooker to living on a farm in Nebraska with a pioneer woman named Nancy and a deformed cow called Bones. Bones died, Mr. Cunningham moved to Laguna Beach, got a job bartending at a gay bar. All along, he was writing.
At one point, Ms. Dauphin made everyone play musical chairs, but that was the extent of her involvement.
Mr. Cunningham said there's another salon he goes to, at a loft in the East 20s, where people perform, read something or play an instrument.
"Ruda's salon is a sort of variation," he said. "The art is conversat
ion, and what she's done is set up conversation among all these great people, who I think for the most part have never met."
"My feeling is that it's quite sufficient to get people together to discover each other and enlighten each other and, frankly, who broaden my world," Ms. Dauphin said. "You know, I'm being selfish about this, too. I love what I'm doing."
Griffin Dunne, the actor and director, was telling Mr. Price he didn't know how he did what he did. "I don't understand how you do what you do," Mr. Price said. "As a writer, all you do is sit on your donut and rearrange the letters of the alphabet."