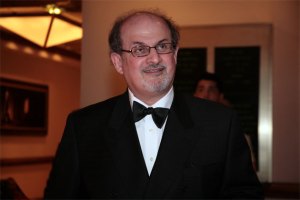 According to the Associated Press, Queen Elizabeth II conferred knighthood on Salman Rushdie today, despite protests from Islamic countries.
In 1989, a fatwa was placed on Mr. Rushdie after his 1988 novel, The Satanic Verses, was deemed an insult to Islam. Mr. Rushdie spent the next decade in hiding.
When Mr. Rushdie's impending knighthood was announced last year at the Queen's 81st birthday, Muslims in Pakistan and Iran responded by burning effigies and protesting in the street. The first deputy speaker of Iran's parliament, Mohammad Reza Bahonar, announced, "Salman Rushdie has turned into a hated corpse which cannot be resurrected by any action."
Mr. Rushdie told reporters:
It's been a long time—my first novel was published 33 years ago, but I think the thing you hope to do as a writer is leave behind a shelf of interesting books, and it's great just to have that work recognized. At this stage, you know, it's certainly not a day to talk about controversy, it's a day for myself and my family to celebrate this.