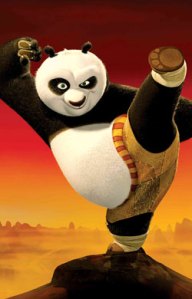 Are we the only ones entirely unsurprised at the floor-wiping by Sex and the City at the box office this past weekend? The label-crazy estrogen-filled girlstravaganza pulled in over $55 million dollars, knocking Indy out of the top spot, and setting all sorts of records for romantic comedies and R-rated films. What we have learned from all this: Robots, wizards and superheroes aren't the only things to pack 'em in; it doesn't matter if a script is too long and doesn't entirely make sense if there are lots of fashion-porn montages and Mr. Big; and don't ever, ever count the ladies out.
THE ONLY COMPETITION Carrie, Charlotte, Samantha and Miranda face this weekend comes in the shape of a roly-poly panda in the aptly named Kung Fu Panda. Jack Black—who might be at his very best when animated—voices the movie's hero, Po, a slacker bear working at his father's noodle restaurant (and the dad, by the way, is a duck, though we never found out why, even though we wanted to) with dreams of becoming a Kung Fu master. Through various twists and turns of fate, Po is declared "The Dragonslayer," and is invited to study alongside his idols, the Furious Five (Tigress, Crane, Mantis, Viper and Monkey) under their guru, Master Shifu, a small animal of indeterminate origin. And just in the nick of time. As it turns out, Tai Lung—a baby cub adopted and raised by Master Shifu who went bad in adolescence—is back to seek revenge, and Po, as Dragonslayer, is charged with stopping him. The movie has a blinding number of famous names attached: Dustin Hoffman as Shifu, Ian McShane as the baddie (natch), David Cross as Crane, not to mention Lucy Liu, Jackie Chan, Seth Rogen, and Angelina Jolie, as the somewhat pissed-off tiger. (Said Ms. Jolie in the production notes: "I was secretly hoping I got to be Tigress. I love her. She's cool. She's secretly who we all want to be. … I have a giant tiger tattoo on my back, and my kids always look at it, so it's very important that I be the tiger." Oh, Angelina. How could we possibly resist you?) The theme of the movie is an oldie but goodie—believe in yourself and you can do anything—and unlike other kid films we've seen recently (cough, Narnia), things never get so scary (despite Mr. McShane's best efforts) that you couldn't bring a real live child to this movie. You might even like it.
Kung Fu Panda opens Friday at Regal Battery Park, AMC Loews Lincoln Square IMAX and UA Court Street, Brooklyn.
svilkomerson@observer.com