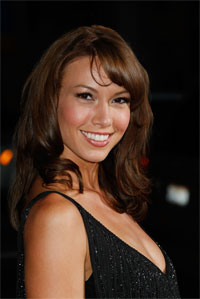 Less than a month after breaking things off with George Clooney, Sarah Larson has landed herself an ad campaign modeling a new line of couture dresses by designer Christian Audigier, People reported.
Ms. Larson shot the ads on Monday in L.A. Mr. Audigier told the magazine, "She is a fresh, elegant and classy girl. I saw her on a red carpet and liked her style and European look."
Ms. Larson's agent, Kenya Knight, said, "Sarah was picked by Christian Audigier because she looks fabulous in everything she wears."
The ads will be out later this month.