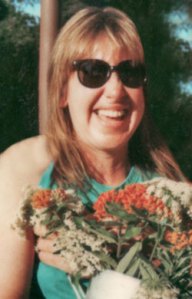 Some years ago, my friend Sarah and I spent a summer afternoon thinning rosebushes in my North Fork garden, only to emerge with our arms covered in hairline scratches from the thorns. She gave me a pair of elbow-high goatskin gardening gloves the following Christmas—a useful and memorable gift. They're tattered and hardened now from spending too much time in the rough, but since Sarah died three years ago, they are a lovely sight in the bottom of my tool bag.
Sarah had two gardens—one was a container garden on her Tribeca terrace, where, battling high winds and hot sun, through trial and error and many visits to Chelsea Garden Center, she found the right mix of annuals and perennials to withstand these singularly New York City conditions. She filled her wooden planters with low-lying favorites like fleshy-leafed portulaca and neat mounds of Sweet William and added some hardy shrubs for greenery and height. Sarah had established her organic chops years before on a commune in Oregon; this woman knew her compost from her mulch. With an old garden bench, an assortment of watering cans and 10-pound bags of topsoil, the mini-Eden on the west-facing terrace was a hippie outpost nine flights up. As if in a blessing from above, one day a large bag of marijuana dropped onto it from the sky.
Her second garden was at the old house she and her husband bought in Orient, N.Y., at the northeast tip of Long Island. By the time they moved in, she was too sick with leukemia to take on the ambitious project of taming the wildly overgrown beds. But I wasn't. With a view of sparkling Orient Harbor, sitting in the beds, she talked while I yanked; this became our cherished weekend routine. Her weakened state did nothing to diminish her interest in improving the garden. There were plants she wanted to add, and the North Fork is a gardeners delight when it comes to nurseries—so many splendid offerings in this old farm belt.
Plant shopping with Sarah was exactly like clothes shopping with Sarah—just as seams were closely inspected (her mother had been an expert dressmaker), she would search among the green for discolored leaves or too few buds. Our last trip the summer before she died was to one of our favorite nurseries, the Long Island Perennial Farm, in backcountry Riverhead, where peacocks roamed and the gallon-size pots sold for $4.95 (we were both bargain hunters). As we walked down the rows—shade plants and sun lovers each had their own section—I pulled along a red wagon, filling it with our best hopes. In one of the aisles, Sarah bent over to pick up a pot. But because her blood flow was weak, she began to topple over. I quickly caught her, held on for a second until she was steady again, and we continued with our shopping, never mentioning it.
That was Sarah's attitude about her illness. She never complained, just as she hadn't about thorns, blustery Tribeca winds or spreading weeds. It was a sunny summer day and we both were having too much fun.
nbutkus@observer.com