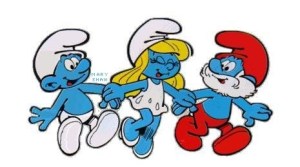 First the Fraggles, now the Smurfs. Is any 80's childhood staple sacred?!
Columbia and Sony Pictures are planning to bring a Smurfs movie to the bigscreen, according to Variety. Our little blue friends (our favorite was Papa Smurf) will be CG animated and, just like the Fraggle movie, there will be live-action actors as well.
"The Smurfs are one of the best-known franchises, and among the most beloved collection of characters in the world," Columbia co-president Doug Belgrad said. "We're very excited to introduce a new generation to Papa Smurf, Smurfette and the other smurftastic Smurfs in all of their 'three-apple-tall' glory."
Sony will launch a licensing effort around the classic Smurfs characters at this year's Licensing Show beginning today in New York.
David Stem and David Weiss, who wrote the second and third Shrek sequels, migth scribe the screenplay. Great, a Shrek'd up Smurf movie? We'll stick to the Hanna-Barbera original, thanks!