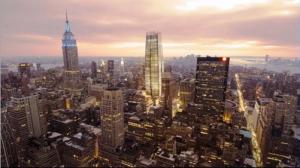 Joe O's, the casual sports bar and restaurant in the Hotel Pennsylvania and home to the $13 Vornado pizza — presumably, an ass-kissing tribute to hotel landlord Steve Roth's ginormous real estate company — has been shuttered.
Its windows along West 33rd Street have been blacked out, with only a sign hanging from the outside scaffolding to remind passersby of its former presence.
"It's just the big guy pushing out the little guy," remarked a hotel bell captain this morning, when this reporter inquired about the bar's closure.
A precursor to the hotel's own demise?
Possibly, though Mr. Roth, who also recently evicted Pretzel Time and Manhattan's only Arby's restaurant from the adjacent Manhattan Mall, has expressed second thoughts about razing the historic hotel, built in 1919.