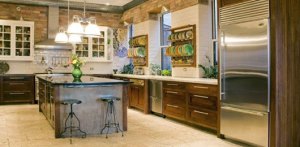 The over-chic luxury loft building at 285 Lafayette Street—where 31 apartment units were built above a former chocolate factory, then sold to David Bowie and Iman, Patrick McEnroe, an IBM heiress, a Murdoch heir—is supposed to be a shiny, happy place.
Larry and Annette Everston, the owners of the high-end shoe shop Otto Tootsi Plohound, outdid their neighbors in shininess: The Observer reported in 2000 that while Mr. McEnroe hadn't planned renovations for his place, the Everston couple had spent close to $3 million to transform their $3.5 million sixth-floor loft "into a northern Morocco village, complete with mosaic tiles, a citrus garden of lemon and orange trees in the sunroom, Venetian plaster walls, cement countertops built to look 200 years old, even a waterfall in one corner."
But the citrus garden has shuffled off this mortal coil. According to public records, which say the deal was done on the order of the United States Bankruptcy Courts, Mr. and Mrs. Everston have sold their 7,000-square-foot apartment in the Soho condo for $7.35 million.
The buyer is a limited liability corporation with a managing member named Teresa Kwei.
The building's board put a $245,750.74 lien on the Everstons' apartment last November, according to those records, along with a $49,220.75 lien a year earlier, which means the couple hadn't been paying their $6,326 monthly common charges for well over three years.
There were other problems, too: By last month, their Tootsi branch a few doors down from the apartment had closed; retail blogs eulogized the once glamorous store's slide into stylelessness.
Back in 2000, when things were different, Mr. Everston spoke to The New York Times "in a state of wonderment" about the building's staff service and his apartment's hand-done mosaic tiles and name-brand luxury stove. "I've never had this kind of stove," he said. "Fantasy has come true." (He also said the couple had 14 cats and two dogs.)
The couple didn't return calls to their store, but listing broker Wilbur Gonzalez e-mailed, from a Gucci party in Milan, that he could only say the apartment needed "some TLC."
mabelson@observer.com