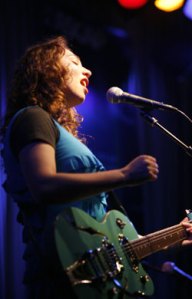 Regina Spektor, the massively charming, epically quirky, Russia-born, Bronx-raised, East Village-bred singer-songwriter, who has two particular Joni Mitchell-caliber songs, "Carbon Monoxide" and "Somedays," that can make this reporter cry, just bought an exceptionally nonquirky apartment in a huge white-brick postwar building at East 34th Street and Third Avenue.
According to city records she paid $1,125,000.
Speaking from his 50-foot boat, listing broker Donald Kohlreiter, who also has an apartment in the building, said: "She's just exuberant. She just loves the apartment, she loves the views"—you can see the Chrysler Building from the condo, plus the East River—"and she likes the building. She likes the area; she's very psyched."
But isn't the 1,140-square-foot, two-bedroom Murray Hill apartment far from the downtown clubs Ms. Spektor became famous in? And why would a 28-year-old piano player want to move into a condo built sometime around the Eisenhower administration for suburbanites who wanted lots of closet space and room for family furniture?
Mr. Kohlreiter, 73, said the building is increasingly hip: "There are all these singles bars, so it's become a hot, young area." Be that as it may, marketing photos of the apartment suggest that the condo's seller, whom the broker said was in the fur business, had grandmotherly, china-on-display tastes.
Ms. Spektor didn't respond to an interview request sent through her real estate lawyer. "She's a lovely, low-key person, and to meet her you would never know what she does," Mr. Kohlreiter said. "She doesn't flaunt it. She's just a very average, sweet person."
Her new building has a concierge, a roof deck, a garage and also an elevator. "Do you know what I'd wish for?" Ms. Spektor sings in an old song called "The Bronx." "An elevator in my building so that I wouldn't have to walk up to the fifth floor/ And also a dog."
mabelson@observer.com