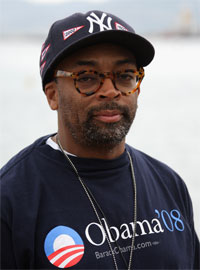 "It's going to be before Obama, 'B.B.,' and after Obama—'A.B.'—and some folks need to get used to this," director Spike Lee told Reuters at the Silverdocs film festival outside Washington, D.C., last night. "And I'm going to be at the inauguration—getting my hotel reservation now."
Mr. Lee is predicting that not only will Barack Obama take the White House, but the nation will be a decidedly different place under his leadership.
"It's not an if … he changes the world. He changes how the world looks at the United States," he said. "It's going to be a new day. Not just a new day, a better day."
Mr. Lee was honored for his documentaries, When the Levees Broke: A Requiem in Four Acts and the Oscar-nominated 4 Little Girls, about the 1963 bombing of a black church in Birmingham, Alabama. Mr. Lee also said that the current levee breaches flooding the Upper Midwest were a sign that little had changed since Hurricane Katrina.
"That's going to change, though. We need a real Chocolate City," he said, using a controversial phrase.
Mr. Lee said he wouldn't be directing a documentary about Senator Obama. Instead, he's working on a film about Kobe Bryant for ESPN and one about Michael Jordan's last year with the Chicago Bulls.