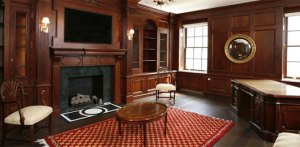 If the 25-room, stupendously wide red-brick mansion at 603 Park Avenue stays on the market past December, which, considering its melodramatic history, is in the realm of possibility, it will be 20 years since the office-tower developer Sherman Cohen bought the neo-Federal corner townhouse.
And he's never moved in, or spent a night.
The story goes that Mr. Cohen bought the 100-foot-wide, 20-foot-deep mansion as a surprise for his wife, Gloria, spending a then-gargantuan sum of $12.5 million. But she was unhappy: "I think my mother's reluctance was that she really likes a doorman building and she likes the services a co-op provides, and my father was respectful of that," son Charles, president and CEO of the family firm, said from Florida.
Within months, the townhouse, so elongated it technically has four addresses, was on the market again, for $20 million. According to reports and notes kept by a local brokerage, the Cohens' on-and-off asking price went from $13.5 million in 1995 to $14 million in 1999; $14.5 million and $14 million again in 2000; $25 million in 2002; back down to $14 million four months later; up to $25 million by 2004; up to $30 million in 2005; down to $29.5 million in 2006; and back up to $35 million (with mega-broker Dolly Lenz) in 2007.
Last month, the $35 million listing went to Serena Boardman and Leila Stone at Sotheby's.
The younger Mr. Cohen blamed those apparent price changes on "scuttlebutt." But he confirmed that the family has turned down big offers, including what he called a bid over $30 million: "I think there are a lot of people that see the house and feel that, with smoke and mirrors, they can put a deal together, that's why we haven't seriously entertained any offers."
The house cost $65,000 when it was built for a sugar wholesaler in 1920; he had to sell three years later to a coal magnate, who sold to cancer researcher James Murphy, who hired young Philip Johnson to do work on it around 1932 ("when," according to the architect, "I really hadn't done anything yet"). The doctor's widow lived in the house until 1987.
By 2003, the younger Mr. Cohen said he had considered buying up four or five neighboring houses to build a tower, but was told by "some astute zoning people" that the Landmarks Preservation Commission wouldn't be thrilled about his plans. Instead, the family did a sweeping renovation on the house.
Now, according to the floor plan, there is a gym, an office, a library, a study, three staff rooms, a huge butler's pantry, a huge breakfast room off the huge kitchen, and a basement theater, too. And yet there are only two official bedrooms because the master suite has massive his-and-her bathrooms, each with its own staircase leading to duplexed dressing rooms.
The new brokers wouldn't comment, but Michele Kleier, who had the listing earlier this year, said about the Cohens: "You know what? They're tough; they're smart. People always say that people like that are hard to get along with, but they know what they want."
mabelson@observer.com