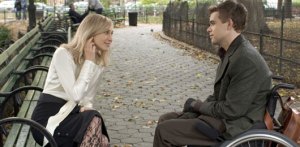 Quid Pro Quo
Running time 82 minutes
Written and Directed by Carlos Brooks
Starring Vera Farmiga, Nick Stahl
Carlos Brooks's Quid Pro Quo, from his own screenplay, transports us into a strange world of guilt-ridden fetishism by which the legitimately physically handicapped incite envy in a small group of able-bodied eccentrics. The film begins with Nick Stahl's Issac Knott, a New York City Public Radio reporter, who begins to tell his own personal story, and the mystery that surrounds it, over the airwaves. Isaac has been confined to a wheelchair since surviving an automobile accident that killed both of his parents when he was 8 years old.
The crash itself is never shown over the course of the film, but the scenic approach to the accident is repeated many times, with stunning images of symmetrically arranged plants serving as counterpoint to the shady setting in which the handicapped-wannabes choose to congregate.
Issac is not lacking in his own fetish objects for recovery, most notably a pair of magical shoes that send tremors of feelings up his legs so that he can finally stand on his own power, and with a pair of canes that liberate him from his wheelchair. Another of his fetishes is a Milwaukee brace that also aids his recovery.
For the group that Issac is investigating in his broadcast, his wheelchair is itself a magical means of transforming the non-handicapped into the handicapped. At first I thought that the whole film was becoming an extended sick joke ridiculing all the agitation about supplying access to the handicapped.
But then arrives Vera Farmiga's Fiona, a beautiful and accomplished woman with a morbid desire to enter what she considers Isaac's privileged realm of incapacitation. Hence, she is so disappointed when Isaac begins to regain the use of his legs that she steals his shoes for a short time to hinder his recovery. But when she does finally return them, it is with a feeling of terminal resignation, and she disappears shortly thereafter. Isaac tries in vain to find her, but we already know the "secret" of Isaac's accident, and it plays out like a detective story, with the complete solution to the mystery locked in the detective's psyche.
The ambitious indirection of the film's visual style is reflected in the director's own comment on the direction of his cast: "I told the actors in rehearsal to think of the story as unfolding entirely within that moment that transpires between deep sleep and wakefulness. So from the earliest rehearsals and creative discussions and final sound design, we approached the film within that framework—that the film itself should be experienced as a kind of dream. Even to the extent that we avoided the usual overtly 'dreamy' filmmaking and editing tricks—in favor of a straightforward style that would, like an actual dream, invite you to perceive it as real."
Quid Pro Quo thereby seems to be the latest attempt to awaken us all from more than a century of dreamlike voyeurism at the temples of the cinema so that we can look more closely at the mechanics of our addiction. The effort is as cerebral as all get-out, and it is moderately interesting to think about afterward. Still, there is a limit to how far we will go to forgo the pleasures of the ancient illusionists of the medium. This is to say that Quid Pro Quo is a respectable feature-film debut for Mr. Brooks, and it remains reasonably thought-provoking without ever becoming emotionally absorbing.
asarris@observer.com