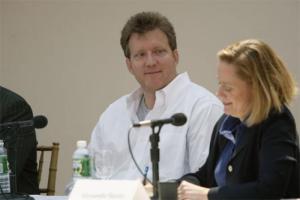 Well, that was fast.
Yesterday, Portfolio's Jeff Bercovici honored New York Times TV Watch columnist Alessandra Stanley on 103 correction-free days. At the time, Ms. Stanley warned Mr. Bercovici that there might a correction on the horizon telling him, "I'd hate to stand corrected, but I think your count could prove wrong… There could be one coming in the next few days—[it's] still under study."
Today, The Times issues this "For the Record" correction on Ms.Stanley's column from June 19:
The TV Watch column on June 19, about Michelle Obama's appearance as a co-host on 'The View,' referred incorrectly to her mention of her gratitude to Laura Bush after Mrs. Obama was criticized for saying she was really proud of her country for the first time and Mrs. Bush sympathized with her. Mrs. Obama said that she had sent a note to Mrs. Bush, not that Mrs. Bush had sent a note to her.
Well, Ms. Stanley was right about the correction at least.