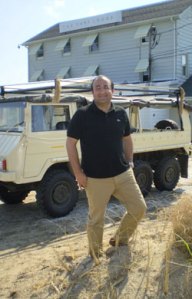 Location: You've made a name for yourself as a real estate broker and hospitality consultant, making deals on behalf of operators like Jeffrey Chodorow, Giuseppe Cipriani and Stephen Starr. Now, you're a part owner yourself here in the new Surf Lodge in Montauk. How did you make that transition from middle man to being sort of the man?
Mr. Kamali: Well, for a number of years, I was doing brokerage and consulting, and I would watch the demise and the success of so many operators, and you come to realize what mistakes they're making and what they're doing to become successful. Over the years, you really come up with a really good plan of what's going to work and what's not going to work.
When I found this property, I brought Jamie [Mulholland, owner of Manhattan nightspots Cain and GoldBar] here and said, 'You know what? This is going to be amazing. We've done so many deals together. It's about time we do something together.' Instead of me just selling off this beautiful piece of land, I'm like, I want to be a part of this. I'm going to put my money where my mouth is and I'm going to be a part of the whole thing.
How did the deal exactly happen?
There was a previous operator called the Lakeside Inn. The owner had been here for over 15 years.
Who owned it?
A gentleman named Jim Barnts. He was running it as a dysfunctional hotel, with a pseudo nightclub at night. It had a bad connotation to it.
Sum it up for me, the vibe.
Local people coming in at 12 o'clock at night and partying until 4 o'clock in the morning, falling down drunk. Big disco ball in the middle of the room.
We ended up purchasing the property. As you can imagine, Montauk actually welcomed us with open arms.
How much for the building?
Isn't that public record?
Oh, I can look it up.
Five [million].
How does Montauk real estate compare to Manhattan real estate?
It doesn't.
What's the big difference between operating and brokerage?
You know how much oil it takes to fill up these lanterns? See, these are little things that I never thought I'd care about or know about, but they're the little things that you have to actually know as an operator. It's a hit-and-run with brokerage. I think over the years it taught me so much. But you still don't get the breadth of how much goes into developing a place like this.
How long has the project taken?
It's been over the course of the last year. We built it in eight weeks. I mean, we renovated it in eight weeks, which is incredible.
What are your favorite touches?
I think it's the bar. We ripped out a lot of the sheetrock of the ceiling. It was kind of ugly. We opened it up to expose those incredible wooden beams. Put up all those surfboards. Put driftwood on the walls.
Robert McKinley, who is our partner, handled all of the design and the construction. He was behind the design of P.M., Cain and GoldBar. Rob and our other partner, Jayma Cardosa, have been coming out to Montauk for years and years and years. Rob's a big surfer and Jayma loves the beach out here. It's the only time she gets to disconnect from the real world. Rob always goes over these incredible concepts he has. He had this concept. I'm like, 'Rob, this [property] really fits the concept that you had.'
You also brought on board Sam Talbot of Top Chef fame. Why?
We had been talking with a lot of restaurateurs and chefs. But Sam was at the top of my list because of his passion for seafood. He also kind of fit the persona of what the Surf Lodge was: cool, sexy, fun. He wakes up every morning and heads to the port and picks up fresh fish.
Did you feel you needed a celebrity chef to make a statement?
With my partners, with their reputation and their following, I don't think it was about making a statement. I think it helps that there was a lot of notoriety that Sam had. But it was more about his talents and his personality. He really fits into our family.
Now that you're out here in Montauk, are you still doing a lot of brokering? Or are you just, like, hanging out for the summer?
Hanging out? [laughing] Yeah, Chris, come up during the week, we'll hang out and go to the beach! No, it's like all hands on deck up here—everybody's doing everything. No, I have my laptop and my phone. I think 70 percent of my time with respect to my other business is really consulting for the food-and-beverage development of hotels. I do not do as much brokerage as I have in the past.
The hotel business is a good racket to be in these days. Hotel construction is booming, though the credit crisis may slow things down.
Well, the credit crisis didn't affect the people who already had their loans two years ago. So they're continuously building. I have six projects I'm working on in New York, ground
-up construction of hotels; one of which, it's being completed, but the deal is public now, so I can talk about it. Frederick Lesort is doing a Jour et Nuit down at 85 West Broadway, a hotel called the Smyth Tribeca. He's handling all the restaurant and nightlife down there. I forged that opportunity.
How long will the hotel boom go on?
I wish I was a fortuneteller. I think the hotel market in New York is really strong. But I think developers in New York, unlike anywhere else in the world, react very quickly. So, if there are too many hotel rooms in New York, if we come to a point where occupancy levels drop below 80 percent, then you'll find yourself, saying, 'You know what? Maybe we should scale back or make these condo buildings or rental buildings.'
Should we expect to see you as partner in more things going forward?
I'm looking to bring this concept and others that we have to different markets. Hopefully, there will be more hotels for me down the line. I'd love to go into secondary markets. Even Puerto Rico, Peru, Costa Rica—it doesn't necessarily have to be a prime location within those countries. It could be this cool little fishing village, where we create this little haven where people come and hang out.
You do a lot of surfing out here?
I actually just lay there. I'm good at just sitting there on the beach.
cshott@observer.com