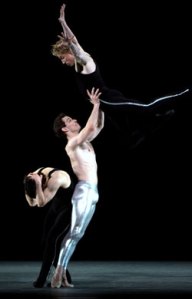 A bomb went off in the middle of ABT's sleepy season of same old, same old classics—the Swans and Giselles and Corsairs; the Beautys and the Bayadères. The bomb was detonated by Twyla Tharp—what a surprise!—and it woke the Met up. Yes, it goes on too long and, yes, it has unconvincing moments, but for most of its 45 minutes, it's a wild ride of kinetic energy. Tharp is often at her best when she's kicking ass, and that's what's she's doing here: in one or two places, literally.
Rabbit and Rogue is about confrontation, aggression, competition—basic Tharp territory. "Rogue" is the strutting, punching, swaggering Ethan Stiefel. He's galvanizing—there are moments when he's like a guy in the electric chair just after the juice has been turned on. "Rabbit" is Herman Cornejo, small, compact, a technically transcendent dynamo. He's perpetually in Rogue's face, daring him, defying him to duke it out—and then ducking out of trouble. Whole lotta macho going on. And waiting in the wings is the blond, elegant danseur noble David Hallberg. But Tharp has him down and dirty, toughing it out with Gillian Murphy. They're the "Rag Couple," and they're no slouches, either, when it comes to aggression.
Stiefel, Cornejo, Hallberg: This is casting from beyond strength. And to top things off, Tharp has the magnificent Marcelo Gomes for her second-cast Rogue, a big, dangerous panther in contrast to Stiefel's prancing peacock; Clark Gable in place of Mickey Rooney. No wonder she likes working with ABT.
The music is by the successful Hollywood composer Danny Elfman, and it's aggressive, too, and more than a touch generic, but it serves Tharp's purposes—it drives things along. Its very first moments faintly echo the Philip Glass score for that Tharp masterpiece In the Upper Room, and the resemblance doesn't stop there. The mostly black costumes are again by Norma Kamali, and at one point, as in the earlier piece, the boys' shirts come off; the dancers often explode onto the scene from black curtains upstage; and once again they hurl themselves back and forth in a kind of perpetuum mobile—how can they possibly keep it up? And how can we follow what they're up to?
We can because Tharp, unlike so many choreographers who are most secure with a pas de deux or a solo, is a master (mistress?) of group dynamics: Everything's a rush, a melee, a jumble, except that everything's crystal clear. She's not a mere traffic manager, though; things not only work out, they go somewhere.
Where they go in this instance is toward a kind of harmony and reconciliation (even Rogue and Rabbit make up). There's a transition from "modern" to more conventional ballet. Now the "Gamelan Couple" take over, Paloma Herrera and Gennadi Saveliev, in classical silver white (she looks like an outtake from Ashton's Sylvia) doing classical arabesques and lifts. This section seems more dutiful than organic—harmony isn't exactly the essential Tharp quality. The "Gamelans" make the most of what they've been given to do, but let's face it: It's Rogue who is the quintessential Tharp persona, and Stiefel, that dynamic all-American bad boy, is her current avatar. It takes one to know one.
AGAINST THE LENGTHIEST of odds, another major piece premiered in New York less than a week before the Tharp. (When, in these post-Balanchine years, have we seen two important new ballets in the course of a year, let alone a week?) At City Ballet, Alexei Ratmansky offered up yet another work to justify his reputation as the most interesting and accomplished young choreographer on the scene. The Bolshoi's Bright Stream (2005), set on a Soviet collective farm (!), was enchanting; Russian Seasons, at City Ballet a year later, was a moving contemplation of life and death. Now he's made a new piece for the company—to Shostakovich's Piano Concerto No. 2—that's totally commendable: a highly dancey, utterly fluent work that does honor to the cheerful score and provides abundant opportunity to a big bunch of the company's dancers.
As in Russian Seasons, Ratmansky places Wendy Whelan front and center. She's a fortunate ballerina: First, Christopher Wheeldon revealed her to us in Polyphonia and Morphoses as astringent, angular—and mesmerizing. Now, the equally perceptive Ratmansky, in his two ballets, reveals her lyrical side. She's the serene feminine focus of the new ballet's second-movement duet (to one of Shostakovich's most tender melodies).
The ballet has an awkward title—Concerto DSCH—which, according to the program, "refers to a musical motif used by Shostakovich to represent himself; the motif consists of four notes that, when written in German notation, stand in for his initials in the German spelling." But the title is the only awkward thing about it. Ratmansky has the crucial ingredient for first-rate choreography: Everything flows naturally, inevitably. He understands how to maneuver big groups, how to bring dancers on and off the stage without strain, how to take nurture from his music without being slavish to it—he plays with it lovingly.
The ballet sweeps along from the very start (Ashley Bouder breaking out of a tight circle of dancers), through the ravishing second-act pas de deux to the jaunty third movement, filled with nonstop quirky invention that's full of surprises yet, somehow, inevitable. There are no "concepts," there's no agenda; there's just dancing that feels exactly right.
In Concerto DSCH, Ratmansky hands City Ballet's dancers a bouquet of rewarding roles. All Bouder's virtuosity is unleashed without her ever looking as if she's pushing or being pushed. The men, particularly Benjamin Millepied in the duet and Joaquin de Luz in the pyrotechnical finale, are helped to look their best. Clearly, Ratmansky knows and loves dancers, and is endlessly generous to them. The 19 members of the cast all looked happy and refreshed, and why not? After the countless sterile and/or portentous new works they've been drafted into over the years, here's something alive, exciting, joyous.
It was heartening that Wheeldon's Rococo Variations, on the same program with the Ratmansky, looked considerably more relaxed and full than it did last season when it was new and somewhat stiff. It's not a major work, but it's constantly interesting in its sometimes playful, sometimes grave riffs on classical partnering. Let's hope that Wheeldon and Ratmansky, both of them so talented, continue to grow—and that New York gets to watch them do it.
rgottlieb@observer.com