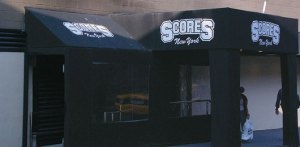 Racking up huge bills has long been part of the exotic experience at Scores, the infamous Manhattan-based chain of upscale strip clubs that built a nationwide reputation by catering to celebrities and wealthy executives.
Only it used to be the patrons' problem. Cover charge: $30 per person. ATM fees: $18.50 per transaction. Cocktails: $19 a piece. And that doesn't begin to cover the extravagant services rendered back in the Champagne room.
For some horny high rollers, the cost of just a single evening at Scores could even reach six figures: One visiting CEO from St. Louis eventually lost his job over a whopping $241,000 charged to his company credit card over the course of one night at the original Scores, at 333 East 60th Street, back in 2003.
Irate customers frequently called to complain about the exorbitant charges; employees just had to laugh.
"You'd be sitting in the dressing room on a busy night," recalled Ruth Fowler, a former Scores dancer, "and a call would come through for the house mom. You'd hear her talking, then she'd get off the phone and she'd be like, 'That was somebody else calling to complain that their credit card had been overcharged.' And everyone would start snickering because it happened all the fucking time."
These days, however, it's the proprietors of the lavish, lascivious clubs—which, in the past, individually generated more than $10 million in annual revenue—who are now feeling the economic pinch.
Citing "mounting tax debt," stiffening legal bills and limping revenues, after state regulators yanked its liquor license this past April, Scores West, 533-535 West 28th Street, shut its doors. Its sister club on the East Side, which is operated by the same owners, now appears headed for a similar fate.
EARLIER THIS MONTH, a lawyer defending the clubs' various corporate entities against federal charges of skimming dancers' tips, among other labor-related issues, quit after five months without pay.
In an affidavit, the attorney, Jerrold F. Goldberg, painted a grim financial portrait of the once formidable franchise: "One of the Scores Defendants, Go West Entertainment, Inc., has filed for bankruptcy. … We have been advised that another one of the Scores Defendants, EMS, may be dissolved, and that a third defendant, 333 East 60th Street, Inc., may file for bankruptcy as there are proceedings pending to revoke its liquor license."
Without booze, it seems, the buxom business quickly goes bust. The one weekend operators Richard Goldring and Elliot Osher tried to make do without it, Scores West earned a measly $5,000—roughly 10 percent of its usual weekend revenues, according to bankruptcy papers.
The owners have tried to use their escalating debt—including some $500,000 in unpaid state taxes alone, according to court records—as leverage in an attempt to regain their primary moneymaker.
Their lawyer pleaded with a bankruptcy judge: "The debtor is actively seeking a buyer for its business and has had at least two interested prospective purchasers who would be willing to move forward with the sale provided there is a liquor license in effect. It is the debtor's intention to proceed with the sale and a plan that would pay creditors in full contingent upon the ability to have a license in place."
But the judge refused to grant a stay. Now, the stripper poles collect cobwebs as the owners await a September court date to argue their appeal.
Meanwhile, Scores Holding Company Inc., the publicly traded company that oversees the franchising of Scores clubs in Baltimore, Chicago and New Orleans, last month reported a deficit of more than $6 million, with venues in Las Vegas and Miami dropping the famous Scores moniker amid changes in ownership.
IT IS SOMEWHAT ironic how a company that tried to inject a little class and corporate appeal into an historically seedy industry could be so easily undermined and economically devastated by one of the oldest tricks in the book: Undercover cops asking for sex.
"It's so obvious—nobody comes into a strip club and goes, 'How much is sex?' Unless they're a cop," said Ms. Fowler, the former Scores dancer and author of the recently released No Man's Land (Viking), a memoir of her days stripping at various Manhattan venues, including Lace, Flash Dancers and Rick's Cabaret. Names of the clubs have been changed in the book. But, she added, "you can totally tell which club is Scores."
Ms. Fowler worked for three months at Scores West, earning up to $3,000 on a busy night, shaking and shimmying for such famous patrons as the popular singer Usher and even Stevie Wonder. "I just thought that was the weirdest thing ever," she said. "What is Stevie Wonder doing in a strip club where there's no touching? I mean, obviously, there is touching, ostensibly."
She was eventually fired after a touchy altercation with a member of Foo Fighters frontman Dave Grohl's entourage, she said.
With at least a little schadenfreude, Ms. Fowler has been following the bawdy empire's downward spiral ever since its highly publicized bust in January 2007, when seven Scores West employees were arrested on prostitution charges. A flurry of litigation and regulatory issues ensued, ultimately culminating in the club's current dry, debt-ridden condition.
She cast some of the blame on Scores' high house fees, which put dancers in a $150 to $200 hole before they even step onstage. "When you know you have to earn that much, you get a lot of shit-scared girls who will do anything to make that money—you know, and they'll do handjobs and blowjobs and all this shit they're not supposed to do because they know they have to make $200 that night just to break even."
Not that the author herself would ever stoop to that level. "Everyone always asks me that," she said. "'Did you have sex with someone?' No, I fucking didn't."
cshott@observer.com