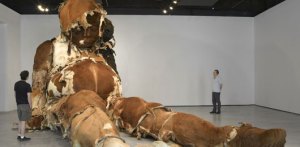 Whatever else you can say about it, the Chinese artist Zhang Huan's work, on view at PaceWildenstein's 22nd and 25th street locations, is perfect tourist fare. Think about it: Chelsea is the hub of the international scene. Its notoriety and commercial clout have extended beyond in-the-know aficionados. Chelsea isn't the Met, but it is attracting out-of-towners, with kids in tow, eager for the buzz of outrageousness.
Mr. Huan isn't outrageous—not in the nudge-nudge, wink-wink manner of Jeff Koons or Takashi Murakami—but his art is something to see, not least because it's big. The former conceptual artist is wise to the impact of spectacle. Bigger-is-better is one thing, humongous another: Climbing a very high platform to get a full look is some kind of memorable. Mr. Huan exploits the gee-whiz factor with dexterous aplomb.
Then there are the materials: expansive antique doors, cowhides and ash. Dead animals are good for generating attention—just ask Damien Hirst—and ephemeral stuff inherently questions preconceived notions of art's durability. Disposability has precedent: Elaborate and labor-intensive sand mandalas are swept away by the Tibetan monks who create them—a metaphor for life's impermanence.
Mr. Huan trades in similar analogies. Canal Building (2007-2008), installed at the 22nd Street venue, is, according to the exhibition catalog, an attempt to connect with "dreams, aspirations, all the spiritual longings." It's a crumbling monolith built from ash, and measures roughly 6 feet high, 20 feet wide and 60 feet in length. Inspired by the Chinese tradition of burning incense as a means of achieving spiritual succor, Mr. Huan has transformed the resulting ashes into devotional minimalism.
Walk up a steep flight of stairs to the observation platform towering over Canal Building and you'll see that it's also a political statement. On top is an encompassing black-and-white drawing made of different tones of ash. A collector of Chinese propaganda, Mr. Huan used a staged photo of innumerable laborers at work. He has said that he is intrigued by its "juxtaposition of real and false," as well as by Mao's "idealistic" ambition of making old China, capitalists and America's "imperialist empire" obsolete.
But Mr. Huan's amazingly meticulous technique quickly waylays any putative message. In the catalog essay, the critic Daniel Kunitz likens the picture atop Canal Building to a Chinese scroll. He's not far off the mark: The piece has a silky tonality that recalls a great tradition. On the day I visited the gallery, a young woman sat on a movable scaffold above the drawing, finessing it with careful applications of ash. Her meticulous work is temporary; the piece will be taken apart at show's end.
On 25th Street, Mr. Huan forsakes subtlety for showbiz. Giant No. 3 (2008) is a sculpture depicting a slumped and pregnant woman with a child clinging to her neck. Pieced together from animal skins—look for dangling hooves, tails and emptied heads—it all but reaches the ceiling of PaceWildenstein's hangarlike space. The surface is alternately bristly and leathery. Metal lengths of wire serve as structural support and as drawing. Function is accented by description: The wires outline eyes, feet and mouth.
Mr. Huan's Memory Doors are weathered doors taken from country houses that have been overlaid with large and grainy black-and-white photos of Communist China. Artisans hired by the artist create shallow reliefs by carving into portions of them—the tree in Memory Door Series (Shadow) (2007) is a tour de force of craft and delicacy. Absent the superimposed Marxist imagery, however, Mr. Huan's doors aren't far removed from the rustic assemblages decorating national restaurant franchises like, say, Applebee's. Just what we need: Maoist kitsch.
As diverting as Mr. Huan's art might be, it's interesting primarily for reasons that flit around extravagant sensationalism. Forget religious aspirations—the sacred is a veneer the work can't hope to elaborate upon or sustain. (Under the rubric of methinks-the-artist-doth-pray-too-much, a photo of a meditating Mr. Huan is included in the catalog.) Independent of Mr. Huan's spiritual musings—that is to say, the written word—the work is unlikely to elicit revelation, satori or what have you.
EVER THE CONCEPTUALIST, Mr. Huan hasn't figured out that means and material can embody, well, almost anything. Giant occupies space, but doesn't engage it; it's just there, all but pointless as sculpture and everything as sensation. The drawing on Canal Building isn't integral to its minimalist import; it's basically sociopolitical decoration. To be fair, Mr. Huan isn't the first artist defeated by contradictory impulses. But rarely has it occurred with such grave and monumental panache.
Mr. Huan dubs his art "a different type of social realism." It's hard to know what he means. Mr. Huan posits it as being anathema to minimalism and conceptual art; he mentions something about reintegrating art into daily life. But if he means "socialist realism," we're in trouble. Whether done under the auspices of Stalin or Mao, this government-sponsored art form obscured political directives and resulting atrocities with rosy falsehoods. Mr. Huan isn't malicious: His Maoist soft-pedaling evinces historical naïveté or convoluted nostalgia. But it's enough to remind you of how easily ill-considered musings can be mistaken for important art.
"Zhang Huan: Blessings" is at PaceWildenstein, 534 West 25th Street and 545 West 22nd Street until July 25.
mnaves@observer.com.