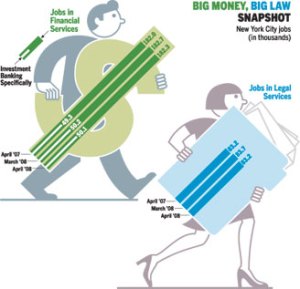 The logic remains nearly sacrosanct: Wall Street layoffs equal falling apartment rents and sales prices across New York City.
Oh, really?
A laid-off Bear Stearns investment banker, one of at least 7,600 pink-slipped from the defunct firm in May, explained his financial outlook thusly: "We have nothing in terms of figures; the salary continues for approximately 8 to 12 weeks."
In other words, don't look for the sky to fall on New York City's housing market, at least not anytime soon. A lot of this has to do with severance packages from Wall Street investment banks like Lehman Brothers and Bear Stearns, and from attendant industries like corporate law. A pink slip in May doesn't equal a vacated apartment in June.
Lost amid the din of grimness is the reality that many of those recently redundant Wall Streeters are tumbling onto pretty significant cushions—in most cases, tens of thousands of dollars in lump sums. It's true: The higher rents and prices with us now will be with us in the autumn, in no small part due to severance (and to a lot of other factors, including that the very rich keep buying en masse and new condo inventory remains bountiful).
"It varies from firm to firm," said Above the Law blogger and Observer columnist David Lat, referring to severance packages for the corporate lawyers that service Wall Street. "But the market-level severance package seems to be about two to three months' pay."
Corporate law firms have not been nearly as hard hit with layoffs as investment banks have. But even banks seem to be skating on the edge of chaos.
The number of financial services employees in the city in April 2007 was 182,000, according to the State Labor Department; that number was 182,300 in April 2008, the last month for which data was available. The number of investment banking employees, in particular, was similarly steady—50,100 in April 2008, and 49,300 a year before. A Reuters report on June 4, via Labor Department estimates, predicted as many as 36,000 Wall Street layoffs. The city's Independent Budget Office, in a May report, predicted slightly fewer by mid-2009.
Will these be enough to belt the housing market so far off its pedestal that landlords knock hundreds off monthly rents and sellers chop tens (hundreds!) of thousands off sales prices? If it happens, it's unlikely to happen before the summer ends.
The bottom line: Severance packages of laid-off could-have-been Masters of the Universe and their proxies will cushion the financial blow to the overall New York housing market. No one's suddenly short on rent because Bear Stearns went bust. No one's forced to sell the Upper West Side classic six because the income may run out in September. No matter what.
So, sit tight. And renew that lease while you're at it.
tacitelli@observer.com