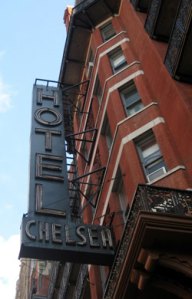 Nightclub impresario Charles Ferri already runs one bar in the basement of the legendary Chelsea Hotel: His swanky Star Lounge, which opened in 2007, is where modern-day would-be Dennis Hoppers like Josh Hartnett and Zach Braff come to add their contributions to the long list of artistic achievements at the Chelsea, often involving rousing karaoke numbers.
Now, Mr. Ferri is planning another one at ground level: The Chelsea Hotel Legends Cafe & Bar, according to his Web site, would include a "sidewalk cafe, lobby and back bar," offering wireless Internet ("for cafe members") and serving "fine coffees, teas, brews and foods" amid "artwork by legendary Chelsea alumni." He calls it "Bohemia reborn." ("Project in planning," according to the site.)
Hey, Charles, now that you've conquered the basement and have your sights set on the lobby, do you think you can run the rest of the hotel, too? The old Bohemian enclave on West 23rd Street has been without a bona fide manager for weeks.
"I would love to," Mr. Ferri said recently, sipping a cranberry cocktail infused with his own signature brand of gluten-free Star Vodka amid the candle-lit gloom of his subterranean lair.
"Put this on record—if they want me more involved in the hotel, I'll take over the hotel," he said, laughing.
Mr. Ferri was probably kidding. But somebody needs to shepherd this embattled Manhattan landmark into the 21st century.
And Mr. Ferri might just be as well qualified as anyone to remake the former stomping ground of pop artist Andy Warhol's entourage. He is, after all, dating the actress Heather Graham, a sort of late-'90s answer to Warhol muse Edie Sedgwick, if you will. On roller skates.
He also gets along quite famously with David Elder, the hotel's vice president and part owner. Mr. Ferri even let Mr. Elder crash at his place last month, after one of the Chelsea's resident pranksters chased the much-maligned executive out of his own hotel one night in a flurry of stink bombs, verbal taunts and water dumped from an upstairs balcony.
"Charles is a go-getter, man," Mr. Elder said at the time.
It's unclear whether Mr. Ferri is actually in the running. Hotel brass did not return phone calls inquiring about the job search, and rumors continued to circulate throughout the hotel's hallowed artwork-adorned halls as to who, if anyone, would be brave enough or stupid enough to take the reins of what has become one of the most politically charged pieces of real estate in the city.
JUNE 15 WILL MARK the one-year anniversary of legendary hotelier Stanley Bard's controversial ouster as manager after nearly 50 years as the famous face of the iconic inn. Rival co-owners Mr. Elder and Marlene Krauss, who have assumed control of the hotel's board of directors, then claimed the eccentric septuagenarian, known for making handshake deals and even accepting artwork in lieu of rent, seemed entirely incapable of running the eclectic lodge like a conventional business.
Yet the young corporate drone hired to replace him didn't last 10 months amid stiff resistance from many longtime Chelsea residents.
"I have been physically threatened on several occasions and spit on while performing my job functions at the Hotel," charged Glennon Travis, the Chelsea's most recent manager, in a recent court filing.
Mr. Travis and his bosses, BD NY Hotels moguls Richard Born and Ira Drukier, who were fired in April on charges of default and willful misconduct, are now suing to collect unpaid and disputed incentive fees.
Subsequent court papers suggest a constant struggle between ownership and management, with the former managers complaining of constant interference by the owners, and the owners complaining about the former managers' apparent ulterior motives.