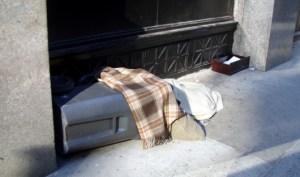 Mike Fleming, a 29-year-old Ohio native who has been living on the streets since 2003, had his 15 minutes of fame a few months ago when he discovered the building schematics for the Freedom Tower while sifting through a trashcan on Houston Street.
A couple months later, Mr. Fleming again finds himself facing the same grim realities he did before his brush with notoriety.
"I was on the front page of the New York Post the week the pope came to town," Mr. Fleming said, pulling a poster board of the story clip from his bright orange messenger bag as evidence. "I could have sold the blueprints on eBay or to terrorists for millions of dollars, but I didn't. I did the right thing and turned them in and the city didn't do a gosh darn thing for me.
"I frickin' saved the WTC and I'm still homeless and can't get a job," he said.
Mr. Fleming, an artist who paints MetroCards on canvases, used to earn as much as $100 in "tips" a day from passersby, enough to buy art supplies and food. Now he counts himself lucky if gets $10. And since the latest tax hike, he can't even buy a cigarette for 50 cents, let alone bum one.
"People started to get stingier about six months ago, and lately things have gotten really, really bad," he said. "I don't know if people are finally starting to hurt because of the economy or what, but they are not giving as much these days."
Lately Mr. Fleming has been sleeping under the awning of the Strand and wears a T-shirt emblazoned with the bookstore's logo. A few of the local restaurants, like Pie by the Pound, box up the food that they would otherwise throw away at the end of the evening and give it to homeless people.
"It's always the young people who do that," Mr. Fleming said. "The older generation would rather throw it in the trash."
He's not alone. Yesterday, the Giving USA Foundation reported that Americans' charitable giving rose in 2007 despite "troubling economic signals," but warned that 2008 was poised for a downturn.
Random, non-tax-deductible acts of magnamity, like throwing a dollar into a musician's hat on the subway or turning over a cigarette when asked, may already have started to become less commonplace.
Charles Nicholson, a tattooed man with dog tags hanging around his neck, sat below the awning of a pizza parlor on Monday morning to avoid the rain, with a big cardboard sign that read: "Please Help me. I'm a homeless Vietnam Vet. I have Cancer. God Bless You. They're going to cut off my foot. I have diabetes. Semper Fi."
"I got diabetes and they are going to cut off my foot," he said, gesturing to the gangrenous big toe protruding from his left sandal. "I'm dying and no one will help me. I used to get about $40 or $50 per day and now I get nothing."
That's not entirely true. A woman who works in the office tower across the street from his usual perch on Broadway and Eighth Avenue brings him an egg and cheese on a bagel and a coffee most mornings, he said, and sometimes she gives him enough to get a room in the Bowery for $18 a night.
"I'm waiting for her now," Mr. Nicholson said. "I'm so thirsty. Some guy across the street gave me soda, but it exploded all over me and now I'm filthy," he said throwing up his hands resignedly. "I'm about ready to give up."
A thirty-something homeless man who can be spotted in Union Square a few days of the week with a sign that reads "Why Lie? I need a beer," said New Yorkers are still contributing money, but in smaller amounts. Like many other businesses in the city, he said he relies on visitors to compensate for a downturn in local spending.
"In Midtown, things are pretty much the same because that's where all the tourists are and they are here to spend money," he said from his perch in front of Barnes & Nobles on East 17th Street after a brief Monday afternoon rain storm. When asked his name, the man said, "Everyone on the street calls me Gypsy.
"In Union Square things have gotten tougher though," Gypsy said. "Six months ago, I could do this for like four hours and be alright for the day. Now I got to put in more hours, because people don't come by with a $10 or $20 bill like they used to.
"They give pocket change, which is OK, it just takes longer."
Gypsy has cut down on smoking, too, lately. "I just can't get 'em anymore.
"I've got a lot of friends in the park and we used to hand them out to each other all the time, but now everyone pretends they don't have any," Gypsy said, chuckling.
Paul Santo initially worried that people would be less generous when the bad economic news first started to appear in the papers, but aside from the usual fluctuations when weather is bad, the same amount of people continue to drop the same denomination of bills in the tin can placed in front of him.
"Cigarettes are tough though," Mr. Santo said in front of the H & M in the Flatiron. "You'll get a dollar way before you get a cigarette these days. When you ask they'll say anything from 'It's my last one,' to 'Sorry, I just can't afford it.'"
A man collecting donations on behalf of the United Homeless Organization a few feet away from Gypsy's post at Union Square reported that people are still giving, but his clear canister was nearly empty Monday and lunch hour was well underway.
"Just because people are cutting back on gas," he said, "doesn't mean their hearts are getting any smaller."