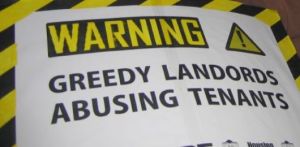 The third and final public hearing this year of the Rent Guidelines Board, the body that sets rents for the city's more than 1 million stabilized apartments, at Cooper Union last night was theater as usual with both tenants and landlords hewing to a familiar script.
"These proceedings have become a predictable demonstration," said City Councilman Dan Garodnick in his testimony.
At the very least they give tenants and landlords an opportunity to vent for three minutes and shout, like only New Yorkers can, until RGB Chairman Marvin Markus gruffly tells them to "shut up."
Though a few people in local government show up and plead, in vain, for a rent freeze, no one in the auditorium has any doubt about how the story will end.
On June 19, the RGB will vote to set an increase of between 3.5 to 7 percent for one-year leases and 5.5 to 9.5 percent for two-year leases, a rise that rent-stabilized tenants cannot afford, insists Adriene Holder, a legal aid attorney and RGB tenant advocate.
"I've been on the board since 2002 and this really is one of the worst years ever because it is just pitting whole groups of people against each other," she said during the first break between testimonies.
"We've seen an increase in evictions, we've seen landlords desperate to get tenants out because they can get more money if they can get lower-income tenants out, and this is not just in Manhattan. It's in the Bronx and Queens, boroughs that people think are still quote un-quote affordable.
"There's a real tension between landlords and rent-regulated tenants, as you can hear," Ms. Holder shouted over a man covered in "Rent Is Too Godamn High" buttons bellowing in the background.
Other proposals being bandied about, such as longevity increases for people who have lived in an apartment for a certain amount of time and a flat, supplemental increase of $60 for one-year leases and $80 to $100 for two-year leases on all apartments with rents below $1,000 are equally unsustainable.
Manhattan Borough President Scott Stringer, called the latter proposal "a terrible idea" since it would slap the rent-regulated tenants who pay below $500 per month–the "overwhelming majority" of them–mainly people of color and/or Spanish speaking," with a 12 percent increase for one-year lease renewals.
"It will be a sad day for New York City if this board chooses to implement a poor tax as our residents struggle to make ends meet and will send a clear message that [the city] is only for the rich," he said.
Mr. Stringer concluded his testimony with a plea to the RGB to "do something historic" and vote for a rent-freeze this year, prompting one angry landlord to stand up and shout: "What about your drug addicts, Scott? What about all the cokeheads?"
The auditorium erupted with boos and calls of racism, and one woman screamed, "How many alcoholic landlords are there?"
Landlords claim that the rising cost of water and fuel have pushed maintenance up so high that they can barely cover overhead.
Heather Borstein, the owner a six-unit building in Harlem, said water alone rose 14 percent this year and she had to pay $20,000 to repair a broken pipe, making it impossible to break even.
"Landlords are not in the business of subsidizing tenants," she said as her time was almost up, prompting jeers and boos from the audience.
"This is a business," she snapped back at the audience. "It's a business."
"Well, you're in the wrong business, lady," someone shouted.
"Oh, I hope you all just, ugh," Ms. Borstein huffed at the auditorium before she stormed out the doors.
Tenants like Yehuda Rubinstein, who lives in a rent-stabilized apartment at 690 Ocean Parkway in Flatbush, accuse landlords of letting buildings fall into disrepair and using previous increases to line their pockets, rather than make improvements.
"Over the years I found out that they don't keep up the building whatsoever," he said. "One time I had a DHCR inspector come over, and he said 'my uncle used to live in this building and it used to be so beautiful, the common areas, the hallways. What happened?'"
Mr. Rubinstein said his previous landlord owned 20 other rent-stabilized buildings in Brooklyn until he ceded the deed to his nephew. In the rare instances repairs are done, they are "asinine."
"Our favorite expression for them in the building is that they're dollar wise and pound foolish, because inspectors come and the expression they use is 'unworkmanlike.' It happened to me when they painted my living room.
"I was amazed by someone who was a billionaire who doesn't put anything into the building and just takes the rent out," Mr. Rubinstein said.
Surely the negligent, slum-lord moguls do exist, but they were not the ones who testified last night. Most of the landlords that took the mike looked almost as down at the heels as the tenants in the audience.
"People ask why we need rent increases," said one graying landlord. "To cover inflation, utilities, insurance, property taxes, but mostly we need them to maintain the stock of affordable housing for our children. It costs $2,000 per unit to do renovations. That's $80,000 for a 40-unit building. Where am I going to get that kind of money?"
"Apply for hardship assistance," shouted an audience member.
Opponents of a rent rise argue that landlords have other avenues and recourses for funding, such as applying for hardship assistance, which requires them to open up their books to scrutiny. Tenants, on the other hand, have no options once the RGB sets a citywide increase, and the consequences of the consistent annual increases, coupled with the 1993 Rent Regulation Reform Act–which established vacancy decontrol, allowing landlords to push up rents 20 percent every time a unit is vacated—are being felt from the Bronx to Chelsea.
"They're talking up there and saying $60 dollars is not that much to people in the Bronx, but it makes all the difference because of the strict rent limits for people to qualify for public assistance," said Justin Haines, a staff attorney at the Bronx Legal Aid office.
The Bronx is the poorest urban county in the U.S., and 30 to 40 percent of the population relies on some sort of public benefits to pay rent.
But through the annual increases, rents in the Bronx are starting to approach a point outside the range for people to qualify for public assistance programs, Mr. Haines said.
"A few people fall within the limits, but otherwise everyone else gets evicted and fewer and fewer people qualify for the assistance every year," he said. "We're at a tipping point, because the higher the annual increase they make here at the RGB, the sooner people are going to pass these thresholds."
Another legal aid attorney, Joan Robinson, was approached by a single mother of four from the Bronx last Thursday who was about to be evicted. She works full-time, but doesn't earn enough to pay for full rent so she also receives welfare. But recently her rent w
as increased to $1,143, $43 dollars too high to qualify for any public assistance programs.
"So I had to call her and tell her at 9 a.m. and tell her, 'here's what's going to happen tomorrow morning,'" Ms. Robinson said. "'A marshal is going to come to your door and you need to gather your most important belongings, and take your valuables because you can't trust your landlord–you never know if they might steal your jewelry or something–and don't forget your prescriptions and don't forget any supplies you might need for the baby, because a Marshall is going to come and evict you because your rent is $43 dollars too high.'
"She had nowhere to go, so she had to try to get into a shelter. We see people like this all the time," Ms. Robinson said.