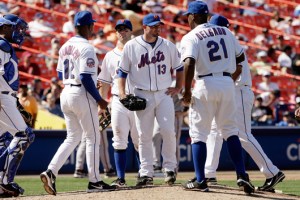 It's still too early for the Mets to make the irrevocable decision to be sellers at baseball's non-waiver trade deadline on July 31. But just barely.
The Mets found themselves seven games out of first place Thursday evening following a 5-4 loss to Arizona, pending Philadelphia's game at Florida. The wild card offers even worse news; the Mets trail St. Louis by eight games, pending the Cardinals' game at Cincinnati.
The Mets have lost six of seven games; a similarly poor performance over the next few weeks, or a strong one by St. Louis and Philadelphia, could put the Mets 10 games out of a playoff spot by July 1.
While teams have managed to overcome deficits that large, such stories are rare. And with the team's depth and talent base depleted by poor drafts and the Johan Santana trade, along with a core—David Wright, Jose Reyes, Carlos Beltran, John Maine and Santana—that is still in its prime, retooling for 2009 could end up being their best (only?) shot at getting back into the company of the premier clubs.
If the Mets punt on 2008—and unless things change soon, it will come to that—here are some of the selling options they have if young talent is available in return:
Scott Schoeneweis is a left-handed specialist in the second season of a three-year, $10.8 million contract. His overall numbers are impressive this season, with a 2.39 ERA in 26 1/3 innings.
But the Mets not only have another lefty in Pedro Feliciano who is far more versatile, they also have a lefty at AAA, Willie Collazo, who is very similar to Schoeneweis in terms of repertoire and strengths—lefties are hitting .179 off of Collazo this season.
And many other teams, contenders included, are not so fortunate in their left-handed supply. The Cubs or Angels seem like possible destinations for Schoeneweis, whose hefty contract should present less of a problem to these two large-market teams. Of course, if the Mets can get a far better prospect by eating more of the contract, they should do so. They are unlikely to get a building block for Schoeneweis—but it is not unreasonable to expect a B-level prospect in return, and New York's farm system is short on those, too.
Brian Schneider should also be dealt if a contending team that values catcher defense is looking for an upgrade. Schneider, despite his hot start, is hitting just .254/.335/.310 with the Mets. There has been no offensive rebound, and Schneider, at 32 with a ton of mileage on him, isn't likely to see one. His OPS is 26 percent below league average; it was 23 percent below in 2007, and 28 percent below in 2006.
The Mets have Ramon Castro signed to a two-year, $4.6 million deal through 2009, and no shortage, between Raul Casanova, Gustavo Molina and Robinson Cancel, of suitable backups. Now is the time to find out if Castro can handle the everyday load of catching. If he can, his plus bat would place him among the upper tier of catchers in the major leagues. And even Castro's defense has rebounded in 2008, making his edge over Schneider that much more pronounced.
But teams like the Phillies, Brewers and Angels lack the catching options that the Mets have. Should one of these teams overvalue catcher defense, as the Mets have so far, a deal of Schneider for some young talent is one the Mets need to consider.
There are other Mets who could also be dealt, but whose stock is likely too low to offer much return. Even if the Mets pick up the remainder of Carlos Delgado's salary, it is unlikely that teams will view him as an offensive upgrade at first base, despite his recent improvement. Oliver Perez's recent struggles, combined with his impending free agency, make him a less-than-ideal rental. While many teams view Aaron Heilman as a potential starter, his struggles as a reliever only complicate a contending team's effort to acquire him, then stretch him out in time to impact the 2008 race. Moises Alou will need to stay healthy for more than two weeks to become a tradeable commodity. And in the unlikely event that New York tried to trade Pedro Martinez, the team would need him to waive his no-trade clause.
But if the Mets add some young players to the farm system while dealing Schneider and Schoeneweis, they increase their chances of winning in 2009, when New York will be without Delgado, and possibly Martinez and Perez.
If they're really fortunate, the likely replacements for Schoeneweis and Schneider could help the team in 2008, too.