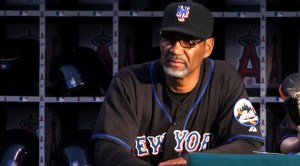 If Willie Randolph's situation with the Mets was most like that of Davey Johnson, who was also fired less than halfway into a season less than two years removed from an appearance in the NLCS, then Jerry Manuel, who was named interim manager of the Mets early Tuesday morning, is Bud Harrelson, Johnson's replacement.
Harrelson took over a 20-22 Mets team during the 1990 season, and led them to a 71-49 record—good enough for 91 victories, but falling short of the postseason. And this standard—significantly improved play, even if it falls short of a playoff berth—is likely Manuel's bar to clear so he can remove the interim tag from his job title.
Strategically, Manuel—an even-keeled 54-year-old former Manager of the Year—can improve upon Randolph at the margins. He can utilize Scott Schoeneweis against left-handed batters only, unless a game is badly out of hand. Ramon Castro can receive all the playing time he can handle, regardless of the pitcher being right- or left-handed. Pedro Feliciano, New York's second-best reliever, can be used primarily in important situations, rather than primarily in blowouts.
But the biggest indicators as to whether Manuel will be an important figure in Mets history, or merely a footnote, will be based upon a number of factors beyond just strategy.
For instance, how hard, and how well, will Jose Reyes play over the remainder of the season? Manuel's authority was challenged by Reyes during the very first inning of his tenure Tuesday night against the Angels. Reyes, who appeared to be hobbling a bit after running out a base hit, wanted to stay in the game. Manuel lifted him anyway, and Reyes responded by angrily throwing his helmet as he left the field.
Manuel didn't let the antics go—he followed Reyes into the clubhouse, and by the fourth inning, Reyes had apologized to both Manuel and his teammates. More importantly, Reyes talked about how impressed he was with the way Manuel communicated with him after the incident.
Keeping Reyes playing well is vital to New York's chances of salvaging the 2008 season. Though Reyes and Randolph often seemed to be at odds, Reyes is having his best offensive season to date. Manuel needs to keep him focused and playing hard. Reyes alone cannot save the Mets, but a lack of peak Reyes would likely sink their chances.
Beyond that, much of what happens to the Mets this year will be beyond Manuel's control, unless he finds a way to heal the sick.
For example, left field has largely been a black hole this season, with Moises Alou playing in just 15 games. And right field, manned by Ryan Church, has been a problem since Church suffered his second concussion of the year on May 20.
For nearly a month, the Mets have been without any production to speak of from two of the traditional sources for offense. By contrast, New York has averaged 6 runs per game in the 11 contests that Alou and Church each received at least four plate appearances.
A similar lift would be provided by the health of Pedro Martinez, who contributed just four of New York's first 70 starts, or less than 6 percent of them. If he can raise that number to 15-20 percent of the remaining starts, it gives the Mets a far better chance to win.
Though Buddy Harrelson's Mets failed to make the playoffs, keep in mind that their 91-71 record was the best of the second-place teams in the 1990 National League—under today's wild card rules, they'd have made the playoffs. If the 2008 Mets play .592 baseball, the winning percentage Harrelson's Mets put up, they would finish 54-38, good for a season record of 88-74.
If that looks familiar, it should—it is the exact record of the 2007 Mets. But even if it isn't good enough for a playoff berth, it should be good enough to keep Jerry Manuel in charge in 2009.