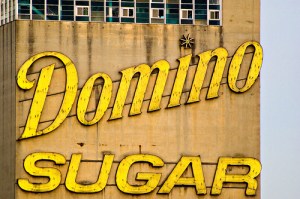 The Landmarks Preservation Commission approved revised plans for a massive development at the Domino Sugar Refinery in Williamsburg, Brownstoner reported just before noon after blogging live from the hearing all morning. Most importantly "the sign will live," said an architect for the project.
The LPC has sent the developers back to the drawing board twice since February, after the first set of plans that would have added a five-floor glass addition to the recently landmarked factory without preserving the iconic Domino Sugar sign drew the ire of preservationists.
This time around, the LPC's reaction was verging on jubilant.
"LPC chairman Robert Tierney says he's really digging the new submission," Brownstoner's Gabby Warshawer wrote. "Tierny calls it a 'brilliant' adaptive plan, says the addition is now 'appropriate,' particularly since the Domino sign is being preserved. Calls the chutes 'dramatic and evocative.' Another commissioner says the design will 'rival the Tate'."