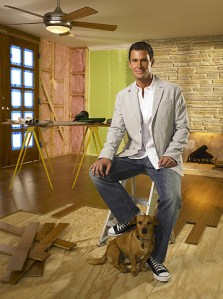 Monday
Is the impulse that drives viewers to A&E's reality series Intervention charity? Or what the newspapers used to call "human interest"? Or is it just Schadenfreude? Either way, the show, which chronicles those confrontations between self-destructive people and their families and friends brokered by "intervention" specialists, certainly doesn't play for laughs. What you're seeing is usually pretty horrific, and the train wrecks it picks through can actually become pretty touching stories. Methamphetamine and OxyContin addictions are common fare here; and the success stories, which are not guaranteed, are definitely the more edifying programs. So maybe it is charity after all? Tonight we meet Chad who, like most of the show's subjects, had a pretty troubled childhood—he ended up in juvie for felony arson. At age 15, Chad's father introduced him to cycling, and he went pro and even cycled on the same team as Lance Armstrong. When he got kicked off the team for "personality conflicts," however, he turned to drugs. He's homeless and spends his days drinking, panhandling and smoking crack. Can an intervention save his life? The show airs at 9 p.m. Of course before reality programs there were nonfictional programs about science and nature and history. The History Channel takes a break from reconstructing Hitler's last hours in the bunker to trot out an hour-long program about the origins of life on earth at 9 p.m. At any rate switch to Bravo at 10 and watch Clueless if you haven't seen it a few too many times already, or fire up the fourth season premiere of Weeds at 10 p.m. on Showtime.
Tuesday
A few weeks ago, the Observer's Doree Shafrir profiled Jeff Lewis, the obsessive-compulsive, bossy, know-it-all real-estate investor who, along with a rotating cast of colleagues, assistants and other miscellaneous employees [read: subordinates] is the subject of Flipping Out, Bravo's (semi)-hit reality show about the art of flipping expensive houses. Its second season begins tonight at 10. "People said horrible things," Mr. Lewis told the Observer about the reaction to the show he'd seen online. "What bothered me is when they'd say that the show is so fake. Don't say my show's fake! Say whatever you want about me, but don't say my show's fake." But there was also this optimistic insight into what many people might argue is a dismal real-estate market: "Cheer up, for God's sake! People are still prospering—they're just not making the kind of money they used to be making. I'm not looking to take advantage of anyone, but people with resources can get incredible deals. It's a sad situation for people who got in over their heads, but also an opportunity. The right house and the right location is still going to sell."
Wednesday
Tonight at 10, the cast of Top Chef reunites to dish on the dramas that unfolded during season four. Yawn! Also, two new roommates move into the Real World house in Hollywood (on MTV, needless to say). And at 9 p.m. on SciFi, the Ghost Hunters search for Civil War-era apparitions at Fort Delaware. Anything good come in from Netflix today?
Thursday
Sometimes, at the proverbial water cooler, it can feel like Bravo is the only channel on television. Tonight, Kathy Griffin's My Life on the D-List moves to 10 p.m. But if you prefer your redheads in black and white, TV Land brings you four back-to-back episodes of I Love Lucy from 9 to 11. The show's not so bad if you're drunk.
Friday
There's a new episode of Meerkat Manor on Animal Planet at 9 p.m., but perhaps you'd rather settle in with a big box of Puffs Plus and watch Brokeback Mountain, literally all night long, on the B-word? (Bravo, 9 p.m.-3 a.m). Get out of the house!