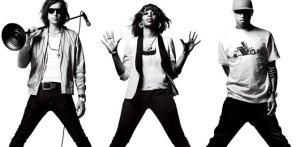 Yesterday, Stereogum leaked a spazzy new pop track called "My Drive Thru" that's part of the centennial promo campaign for the timeless hipster sneaker brand Converse. The artists behind the tune are something of an unlikely collaboration: In one corner, you have Julian Casablancas, singer of the Strokes and semi-forgotten it-boy of 2001. In the other, Santogold, the sassy, genre-bending Brooklyn singer who all the cool kids are calling 'the new M.I.A.' And rounding out the trio—all star producer and one-half of the beat-making duo the Neptunes, Pharrell Williams, who's lent his talents to everyone from Justin Timberlake to Gwen Stefani to Madonna.
"I've always wanted to work with Julian and I'm a big fan of The Strokes. Santogold is super-talented and she cares about music so much that it's not just about sound, it's a visual aesthetic," said Mr. Williams in a statement. "Working together on original music that crossed all of our inspirations was completely refreshing and I love the track. As for partnering with Converse, I only wear and support the things that I like. The Chuck Taylor is the golden goose egg."
Golden goose egg indeed! And that egg hatches today with the official release of "My Drive Thru," which can be downloaded for free at converse.com. Today's also the street date for Seeing Sounds, the third album from Mr. William's alternate project, N.E.R.D. (that's en-ee-arr-dee), which, according to Rolling Stone, dapples in hip hop, jazz, '60s soul and new wave.
Everyone Nose (All the Girls Standing In the Line for the Bathroom) – N.E.R.D.
But alas, it's a slow week for new releases, or good ones at least. And so we give you (albeit reluctantly) Alanis Morissette's Flavors of Entanglement. We really haven't heard much from Ms. Morissette since her angsty 1995 major label debut, Jagged Little Pill. But as the Observer's Irina Aleksander points out, the former Nickelodeon kids' show star is getting a bit of an A-list boost thanks to her break-up early last year with actor Ryan Reynolds, who's now engaged to Scarlett Johansson. (Dare we say that's a step up on his part?) Apparently, she sings all about their relationship gone sour on the new album, and the press is paying attention. Judging by her recent interview with the AP, she seems well recovered: "I have enough distance, so to be perfectly honest I'm not really that focused on it," she told the newswire when asked how she felt about Mr. Reynolds moving on. "I wish anyone whom I love, whether I hang out with them or not, great success and love in their life." How sweet! But really, we can't poke too much fun of someone who was on You Can't Do That on Television!
Underneath – Alanis Morissette
Finally, The Week in Music decided to go out on limb with this next group, The Fratellis, who release Here We Stand today. They're from the U.K., which automatically gives them a few points. And they're billed as being "ex-Wallflowers," which would mean at least one of them was in a band with Bob Dylan's son. Sort of cool? But really it was their name—which bears reference to the trio of villains in the classic '80s flick The Goonies—that sealed the deal. Best movie ever! Wait, members insist that the choice of band name is merely a coincidence? Sigh. But it's OK—they kind of suck anyway.