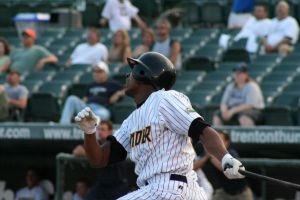 While the hysteria over Joba Chamberlain continues in the Bronx, Austin Jackson, a 21-year-old outfielder with New York's AA affiliate in Trenton, calmly prepares to be the next big thing. And Jackson knows exactly who to talk to about that process.
"Reggie Jackson comes and visits us every spring," said Jackson, as he dressed in front of his locker prior to Tuesday night's game against the Connecticut Defenders. "The past two years, we got to sit down and talk. That's huge from a friend standpoint. Sometimes he would be struggling, but he was always confident."
Tellingly, the younger Jackson seems most engaged when he's talking about hitting. That alone has to make the Yankees feel reasonably good about their decision to draft him with an eighth-round pick in the 2005 draft. A first-round talent, Jackson, it was generally assumed, would head to Georgia Tech, where, as a two-sport star, he would play basketball in the Atlantic Coast Conference.
Instead, the Yankees, as they have often done in recent years, used their financial advantage essentially to add first-round picks to the organization in later rounds. It's a major reason the Yankees have a far deeper farm system than, say, the Mets, who rarely pay much for talent in the later rounds.
The Denton, Texas, native loves basketball—just prior to his interview with The Observer, he defended the virtues of Kobe Bryant over LeBron James to a teammate. But he said that when the Yankees came calling, he had to choose baseball.
"Even growing up in Texas, I knew about the Yankees," said Jackson, who was 9 years old when New York made the first of its 12 consecutive playoff appearances. "It would have been nice to play basketball, but I couldn't turn that down." That, of course, also included an $800,000 signing bonus, a record at the time for an eighth-round pick.
Jackson was praised by scouts for his tools, but had difficulty translating those tools into performance at first. He had a .258/.338/.344 line at Class A Charleston as a 19-year-old, and was posting a .260/.336/.374 mark in a second go-round in Class A when the Yankees promoted him to High-A Tampa.
Jackson responded to the higher competition by mauling it. He put up a .345/.398/.566 line in Tampa, despite the fact that both the park and the league are pitcher-friendly. Jackson shot up the prospect lists, and at age 21, is playing AA baseball, with a chance to help the Yankees in the near future.
So far in 2008, Jackson's power numbers are down, but his game is continuing to round into form. He walked 46 times in 493 at-bats last season, between A and high-A ball: this season, he's walked 30 times in 217 at-bats. His defense also earns praise from his manager, Tony Franklin, who compares him to the former Phillies defensive standout Garry Maddox, in center field. (It was Ralph Kiner who once said, "Two-thirds of the earth is covered by water, and the other third is covered by Garry Maddox.")
And Franklin isn't worried about Jackson's power, either.
"He'll hit double-digit home runs at the major league level," Franklin said definitively from the Trenton Thunder dugout as he watched Jackson take batting practice before the game.
Expectations are not Jackson's focus right now, he says, though he knows that Yankee Stadium may be in his near future.
Jackson described the need to improve his approach at the plate, looking for the chance to hit to all fields more.
"I think the key will be to stay inside the ball," Jackson said. "I tend to pull, and I need to be ready to hit different pitches. The pitchers up here throw lots of different pitches at different counts, and the same at higher levels."
That Jackson's approach has produced an improvement in his power numbers in recent weeks—his OPS jumped from 708 in April to 861 in May—comes as no surprise to his manager.
"Power is a result of good swings," Franklin said. "He has a better and better technique, and as a result, he's putting consistently good swings on the ball."
Jackson had a pair of seven-RBI games, one on May 21, one on June 1. And more may soon follow. Often with hitters, particularly ones with the skills of an Austin Jackson, once they find a consistent approach, the jump from adjusting to dominating a level comes quickly.
Even Tuesday night, though Jackson had just one hit in four at-bats, he showed the ability to wait for his pitch, he got ahead of the pitcher three times. Twice, he just missed a 2-0 fastball. In his fourth at-bat, Jackson worked the count full, then laced a single through the middle.
It is hard to see how Jackson's combination of talent and approach will keep him in the minor leagues for much longer.
"When you're playing well, you get on the map," Franklin said. "That comes hand-in-hand with being a Yankee."
So it was with more than just a casual interest that Jackson watched the ESPN SportsCenter coverage of Joba Chamberlain's first start on June 3.
"I've heard New York is a nice city," Jackson said. "But I'm looking forward to it. It's fast-paced—and everything was slow in Texas. It's gonna be exciting," he added, smiling a soon-to-be-familiar grin.