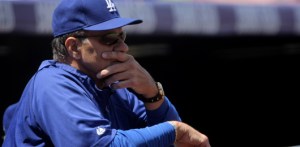 Last Friday evening, Dodger manager Joe Torre was sitting in the visitors' dugout at Shea Stadium, fielding questions from about a dozen reporters about his struggling team. The Dodgers, who limped into a New York fresh off a three game sweep at the hands of the Chicago Cubs, had lost the series opener against the Mets by a score of eight to four, stretching their losing streak to four games. Not exactly the triumphant return that Torre had in mind for his first trip back to New York since last fall's acrimonious split with the Yankees.
Candid as always, Torre showed little to no outward concern and spoke optimistically about regaining the form that had helped his team win 10 out of 12 games in a two-week stretch from late April to early May. "They still need to get out there and play the game," Torre said of his team.
That evening, finally, the Dodgers mini-losing streak came to an end. Led by their young batters, the Dodgers scored five come-from-behind runs in the eighth inning and overcoming a poor start from 20 year-old phenom Clayton Kershaw, who was making just his second Major League start. In both that victory and their following losses on Saturday and Sunday, the Dodgers showed that their youth – the Dodgers have a contingent of eight players under the age of 26 – can be both their greatest strength and their greatest liability.
It must be an odd experience for Torre at this point. For 12 years, he managed the Yankees, and throughout that stretch his teams were dominated by veterans. In the early years it was Paul O'Neill and Tino Martinez; later, the mantle was passed to Derek Jeter and Bernie Williams. Torre assumed a relaxed clubhouse presence, and it fit well with veterans who could be counted on to prepare and motivate themselves.
According to the Dodgers' first-base coach Mariano Duncan, it hasn't been a stretch for Torre to adjust to his very different new roster. Duncan says that Torre "knows how to handle the younger players." Duncan won a championship playing for Torre in '96 and knows many of the Dodgers' young players well from his days coaching for the Dodgers' minor league teams. He believes that the Torre approach is working. "He treats everyone with a lot of respect," Duncan said of Torre, adding later that "he is like their dad."
There are five Dodger positional starters under the age of 26, and they are all hitting .280 or better; led by 26 year-old catcher Russell Martin, who is hitting .315 and has an on-base percentage of .421. 24-year-old outfielder Matt Kemp is hitting .312 and has ten stolen bases to compliment his respectable four home runs. The Dodgers' best pitcher is 23 year-old Chad Billingsley, who has an ERA of 3.29 and staff-leading 71 strikeouts, the same amount as Mets ace Johan Santana.
Torre's problem is that the veterans have been, with one or two exceptions, killing the Dodgers. 40-year-old second baseman Jeff Kent is hitting .244 and has an on-base percentage below .300. 31-year-old center fielder Andruw Jones, signed to a two-year contract worth $36.2 in the off-season, is batting .165 and tallied double the number of strikeouts (45) as hits (22) before heading to the disabled list with a balky right knee.
Those are not Paul O'Neill-type numbers, and it makes you wonder if Father Torre might be feeling a little nostalgic for the Bronx. Sure, he had to deal with the neurotic meddling of George Streinbrenner, and it's doubtful that the prospect of co-existing with young Hank struck Torre – a man who led the Yanks to four World Series Championships – as an ideal situation, but managing the Yankees did have its perks. The most obvious is that Yankee ownership, however overbearing, is deeply committed to winning and is willing to pay top dollar to acquire the best talent available.
The Dodgers, owned by real estate developer Frank McCourt, have a payroll of around $118, and while that is the seventh-highest in baseball, it still trails the Yankees by almost $100 million. And when the Dodgers decide to spend their money they often waste it on mediocre players well past their peak years. According to ESPN.com, over $100 million of the Dodgers' payroll is committed to eleven players over the age of 30, including injury-prone third baseman Nomar Garciaparra ($9.5 million), pitcher Jason Schmidt ($15.2 million), and the aforementioned Andruw Jones.
The Yankees are smart and rich enough to spend their money on acquiring top talents like Alex Rodriquez, Mike Mussina and Roger Clemens.
But it couldn't last forever. Last year, Yankee brass decided that Torre wasn't the one to lead a new youth movement, led by 26 year-old second baseman Robinson Cano and 22 year-old pitcher Joba Chamberlain.
It's funny how things work.
After losing to the Rockies by a score of 3-0 on Tuesday night, the Dodgers' record fell to 28-20, and they're now 3.5 games behind the division leading Arizona Diamondbacks. Back in New York, the Yankees are struggling to integrate their own brigade of young reinforcements, and, as of Wednesday afternoon, had a matching 28-30 record of their own. Growing pains, it seems, are unavoidable. Watching his team take batting practice last Friday, Joe Torre seemed well aware of this. "Young players always give you more energy," he said. "It helps the more experienced players, who can sometimes look at this like a job."