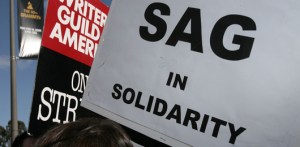 Are we getting closer to another strike in Hollywood? It seems plausible now that Screen Actors Guild president Alan Rosenberg has told Daily Variety it's unlikely the guild and the major producers will strike a deal by June 30, the date the guild's contract is set to expire. More, he admitted that guild leadership would decide by next week whether to ask SAG members for strike authorization—it would need approval from 75 percent of them.
"We have not decided to go ahead on a strike authorization, but if we do, we'll have to fairly soon," he said. "And we can certainly work past the expiration date while we're still negotiating." The voting procedure would take several weeks to complete, he noted.
At issue is whether producers can use actors' clips on the Web without permission, a measure they argue will help curtail Internet piracy. Traditionally, actors have reserved the right to approve the use of their clips.
Mr. Rosenberg said SAG's negotiating process has been slowed ever since the American Federation of Television and Radio Artists struck a three-year deal with production companies on May 28. At the time, the New York Times' Michael Cieply reported that SAG "would not simply accept the same terms as other unions," and since then, the guild has taken a strong stance against AFTRA's ratification of the deal. AFTRA has in turn come out against SAG for interfering, highlighting "breakthroughs" it had achieved like "more than 10-percent improvement for working actor compensation over the course of the contract; gains in overtime and schedule breaks; a 10-percent increase in the major role minimum; coverage for new-media programs with a payment structure similar to that in the DGA and WGA deals; preservation of performers consent for online clip use; and access to employers' transaction data, including contract information and license agreements," according to Daily Variety.
But in a letter to guild members this week, Mr. Rosenberg and SAG national executive director Doug Allen wrote: "We have not yet reached the point where either SAG or AFTRA has a deal that meets your needs as professional actors. This is a righteous fight, and we believe that with your support, we will prevail."
Stay tuned.