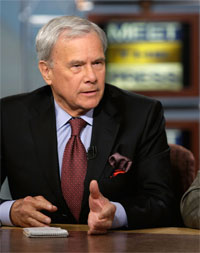 Tom Brokaw, the former anchor of the NBC Nightly News, will moderate Meet the Press on Sunday mornings for the rest of the election year.
Brian Williams, the current anchor of the NBC Nightly News, made the announcement at the end of Sunday's Meet the Press.
Since the sudden passing of Tim Russert, there has been much speculation about who would take over the role as moderator of the number-one-rated Sunday morning public affairs program. By naming Mr. Brokaw to the position on an interim basis, NBC executives have essentially bought themselves more time to find a long-term replacement.
"I volunteered," Mr. Brokaw told The New York Times from his ranch in Montana over the weekend. "A number of people had suggested it. Steve Capus and I talked about it over the weekend. I looked at my calendar and manipulated a couple of personal things, and I told him I can get us through the election."