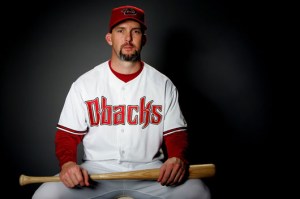 With Moises Alou on the disabled list, Mets manager Jerry Manuel has said that the team needs to plan as if he isn't coming back. And Trot Nixon, who has started in left field eight times since the Mets acquired him from the Arizona Diamondbacks (where he had been playing for Arizona's AAA club) on June 15, wants to put himself squarely at the center of those plans.
So far, the results haven't come for the longtime Red Sox standout, whose season line stands at .148/.281/.296. But Nixon, who New York acquired in part for his seemingly endless hustle, said he isn't pressing.
"Look, for my whole career, basically, I've been pressing," Nixon said as he stood at his locker following Monday night's game, a 5-2 loss to Seattle, wearing a Wichita State cap. He smiled as he recalled this, but not when he discussed his batting funk.
And the Mets, who badly need an additional hitter to step forward to replace Alou's production, want and expect more from Nixon, who hit 79 home runs from 2001-2003 while posting an OPS well above league average each year. Nixon's performance slipped to .251/.342/.336 last season with Cleveland—he hit just three home runs in 307 at-bats.
"My main focus was to come out here and provide offense," Nixon said. "I've been happy with my defense. But the frustrating part has been that my offense has not been able to get going. I know I can be comfortable at the plate—I was in AAA. I'm getting close."
Nixon has made numerous fine defensive plays in both left and right field. The Mets even got a taste of the power left in Nixon's bat on June 20 in Denver, when Nixon clobbered an Aaron Cook offering off the second deck at Coors Field.
Nixon was typically unsatisfied.
"It felt good, no question," he said of the home run. "But the key is in the same game to get quality at-bats. I try and repeat that approach, to get the same results."
And how many at-bats has he been happy with since joining the Mets?
"Only two or three."
So it would be natural for Nixon to be pressing, especially since he spent 58 games with Tucson of the Pacific Coast League, unsure if his major league career had come to an end.
"All I could do was hope that someone would give me a chance," Nixon said. "All I could do was keep going out there, being competitive, and I was fortunate—I had some good ball games there."
In fact, Nixon posted a .309/.437/.558 line. But Arizona had more outfielders than spots, so the Diamondbacks sent Nixon to the Mets to give him another major league shot. Though New York has posted just a 38-39 record, Nixon sees similar talent to some of the playoff teams he led in Boston.
"I like to win," Nixon said by way of describing his happiness with coming to the Mets. "And this team can win. They just need some production from me."
Nixon said that his personal experience in New York was at odds with reports that the clubhouse is racially fractured, or filled with indifference.
"You find your path on any ballclub," Nixon said. "But plenty of guys in here grind it out. This is a great group."
So Nixon, who said he hopes to stay with the Mets "for the rest of the year, if not longer," continues to look for what will bring his bat back to life. He's drawn five walks in 32 plate appearances so far—boosting his on-base percentage despite his low batting average.
But even Nixon the perfectionist knows there's only so much he can do.
"My old hitting coach, Dwight Evans, used to say to me when I was trying too hard, 'I want patience, and I want it now.' I am hoping for a regular role. I can only control what I can do. But a ballplayer can write his own path." He paused briefly. "The hits are going to come."