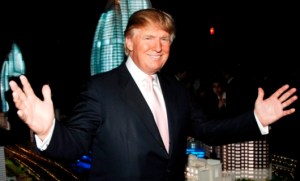 On Monday night, the Trump Organization threw a lavish party in Midtown to celebrate the launch of its new Trump International Hotel & Tower in Dubai.
I wanted to know: How does the booming hotel market in Dubai compare to that of New York?
The dapper Donald Trump Jr. replied, "The high-end suites over there would be very comparable to the best you have in New York, and vice versa."
Fair enough. But what about bedbugs? Is the high-end Arab lodging scene just as prone to the nasty blood-sucking insects as the inns of Manhattan?
"Not that I'm aware of," the younger Trump said.
"Everything's brand-new out there, so I'm sure they don't have bedbugs," his lovely wife, Vanessa, interjected.
"Most of it didn't exist five years ago, so there's probably not too much of an issue with bedbugs–and certainly not the places we're staying," Donald Jr. insisted.
Family patriarch Donald Trump Sr. was even more adamant:
"No, you won't have any—I promise," he said with a wink.