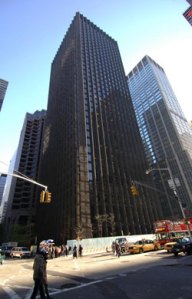 Domestic players have bought three huge midtown towers once belonging to the beleaguered Macklowe Properties.
Shorenstein Properties has bought Park Avenue Tower and 850 Third Avenue for just shy of $1 billion.
Shorenstein, the San Francisco-based real estate investment firm, bought a 94.5 percent interest in 850 Third, valued at about $300 million, and Park Avenue Tower at 65 East 55th Street, valued at about $630 million, according to a source familiar with the deal.
Both properties were part of the $7 billion portfolio that Macklowe Properties, leveraging the GM Building, purchased from the Blackstone Group last year. A group led by Mort Zuckerman's Boston Properties closed on the GM Building on Monday.
Meanwhile, Paramount Group is expected to sign for 1301 Avenue of the Americas, the Credit Lyonnais Building, on Wednesday for more than $1.45 billion.
"Here we are, GM, 850, Park Avenue Tower and 1301 Avenue of the Americas—all end up going to very sophisticated local players," said the source on the Shorenstein purchase. "It should be comforting to investors that the players are local, as opposed to some crazy foreign capital source, which doesn't necessarily have a handle on the market."
Cushman and Wakefield's investment sales team of Scott Latham, Jon Caplan, Ron Cohen and Richard Baxter and Eastdil Secured's Doug Harmon were involved in the deals. None would comment.
drubinstein@observer.com