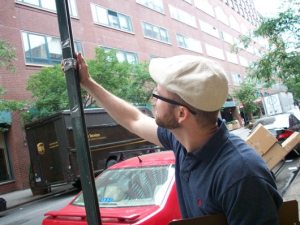 It was Friday afternoon, and William Kelley didn't look dressed for getting down and dirty.
The guy was, frankly, styling, in his blue Ralph Lauren polo, plaid pants and black-framed glasses. The only clue that he'd be spending the next two hours on hands and knees, measuring tree pits and jotting down every dangerous crack, hole, puddle, and spot of graffiti along Union Square East was the enormous metal tape-measure strapped weapon-like to his belt.
Mr. Kelley, director of economic development for the Union Square BID, and his partner Victoria Draper, a Howard University-bound graduate of Washington Irving High School, began their two-hour survey at Galaxy Global Eatery – the vegetarian-friendly diner at the corner of 15th Street and Irving Place that has glow-in-the-dark stars on the ceiling and hawks galaxy-emblazoned rolling paper at the front desk.
Mr. Kelley and Ms. Draper – along with about 13 other BID staffers and local volunteers – were trying out a software called ComNet – which has nothing to do with the Communist International. Rather, it's a software developed by the Fund for the City of New York that enables users, equipped with the appropriate hand-held device, to chart every flaw in the streetscape and then to reach out to the agency whose job it is to make the repairs. Essentially, it allows a neighborhood organization, like the BID, to better navigate the bureaucratic morass that is New York City government and keep track of the various streetscape work that needs doing.
"Unfortunately, crazy people are not part of the program," said Mr. Kelley, as a man muttered loudly at the corner outside the Galaxy.
But inappropriate puddles – called "puddling" in municipalese – are. And Mr. Kelley spotted one right away: "It's hasn't rained today, so there really should be a pond here," he said.
And so began the journey from Irving Place to Union Square East, with Mr. Kelley and Ms. Draper moving at about .0014 miles an hour, all the better to jot down every uneven sidewalk flag and peel off advertisements taped to light poles (like the "Moving $19" sign in front of 119 Bar).
"That's that, but we're going to make a note about peeling paint," Mr. Kelley said, before launching into a rhapsody about the virtues of fresh paint: "You'd be surprised – it looks like a recently constructed streetscape with a new coat of paint on light poles, trash cans and fire hydrants."
Mr. Kelley and Ms. Draper were charting one of 11 routes through the Union Square BID. This one encompassed nine block-faces (if you were to bisect a block down the roadway, you'd get two blockfaces).
Thirty minutes later, Mr. Kelley and Ms. Draper had reached Union Square East. And then they headed north, then east, then north, then west again.