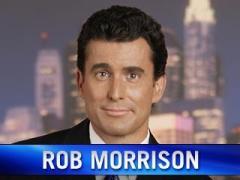 Veteran local news anchor Rob Morrison is leaving WNBC, as first reported today by Fishbowl NY. For the past several years Mr. Morrison has anchored "Today in New York," the lead-in to NBC's lucrative Today.
Sources confirmed to the Media Mob that in recent days Mr. Morrison cleared out his office and left 30 Rockefeller Center for good. He is thought to have taken a generous buyout package, which will presumably help NBC clear his hefty anchor's salary off the budget at a time when the parent company is dramatically overhauling the local news division.
The news of Mr. Morrison's departure came on a day when the New York Post published a piece taking a look at how General Electric might be tightening the purse strings at NBC in an effort to protect its triple-A credit rating. "NBC Universal CEO Jeff Zucker is doing everything he can to grow the media giant despite being given the financial equivalent of the cold shoulder by parent company General Electric," reported the Post.
(Afterwards, Jossip speculated rather convincingly that Mr. Zucker might be the anonymous source behind the article).
"Still faced with questions about GE's commitment to NBC, Zucker's deal-making is designed to both move the Peacock network out of stagnant businesses like broadcast television and into high-growth areas such as cable networks and digital, while at the same time laying off risk for the parent company," added the Post.
For local TV news divisions facing dwindling advertising revenues, "laying off risk" often translates into laying off veteran talent.
Mr. Morrison's departure comes only a few weeks after news that veteran local news anchor Jim Rosenfield had taken a buyout from WCBS.
Recently, David Diaz, a former award-winning reporter for WNBC, who now teaches journalism at CUNY, told the Observer that the ongoing changes at WNBC are just another potential blow to the future livelihood of the experienced beat reporter.
Veteran local news anchors may be facing the same dynamic.
"Experience for a long time in this business was an asset," said Mr. Diaz. "Over the last 8 to 10 years, it's become a liability. The longer you're on the air, the more money you make."