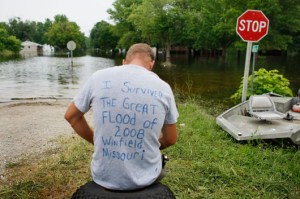 According to the June 25, 2008 edition of the DesMoines Register, many of the people who have lost their homes and farms in the recent flooding there do not have federal flood insurance:
"David Maurstab, an assistant administrator of the Federal Emergency Management Agency whose duties include overseeing the flood insurance program, conceded Tuesday that few Iowans have purchased coverage. FEMA reported that as of September 2007 there were 10,649 policies in force statewide.
"That is troubling to all of us," Maurstab said. "We have a remarkably low number of insureds in the affected areas."
The state of Iowa is in excellent fiscal condition and has a $620 million reserve fund that the state government appears reluctant to send on emergency relief. As reported by Jason Clayworth in the same June 25 DesMoines Register: "Iowa ranked 47th in per-capita levels of state and local government public debt in 2005, according to data from the Census Bureau. Iowa governments have borrowed an average of $3,941 per person, while the national average is $6,985, according to the bureau."
Unlike states like Louisiana and Florida which also suffered weather-related disasters in recent years, Iowa looks like it will combine local, state, private and federal resources and be able to fund a recovery from this recent disaster.
What does this mean for New Yorkers and people in other parts of the country? Many analysts have noted that the dollar cost of damage from weather-related disasters is quite high and probably on the rise. The National Oceanographic and Atmospheric Administration reports that: "The U.S. has sustained 78 weather-related disasters over the past 28 years in which overall damages/costs reached or exceeded $1 billion. The total normalized losses for the 78 events exceed $600 billion"
This does not include the cost of damage from the many smaller disasters that cause damage that is lower than a billion dollars. Why is the cost of damage so high? The main reason is that as the United States has grown we find ourselves moving into areas that were not settled in the past, in part, due to their vulnerability to weather impacts. Another reason is our own arrogance. If you look at old beach communities you will find that people did not build their homes right on the water. They knew that the ocean was unpredictable and didn't mind walking to the beach to see the ocean. Times have changed: Think of all those pictures we are always seeing of homes falling off of the shore and into the water in Malibu.
The other probable reason for growing damage costs is changing weather patterns related to global warming. Many climate scientists predict increased incidences of extreme weather in the future. As it is often said: "Everybody's talking about the weather, but no one is doing anything about it." What can be done?
The main thing we can do other than try to reduce greenhouse gas emissions, is to develop policies and institutions that enable us to adapt to climate change and damages from increased exposure of people and their property to harsh weather, If we suffer over $600 billion in damage over 30 years we need to plan on spending more than $20 billion a year on response and reconstruction. If something takes place 80 times in 30 years, it can no longer be seen as an unusual event. Let's assume that over the next 30 years, the cost of these impacts will double. The prudent thing to do is to get ready.
We need to do better at predicting weather emergencies and moving people out of harm's way. We need to use our tax system to accumulate an emergency trust fund— a real rainy day fund-that is used to quickly pay the costs of reconstruction. No more going to the Governor or President with a tin cup to beg for money. No more pork barrel political shenanigans governing reconstruction assistance. Just like social security-emergency response and reconstruction must be a right of all Americans.
Some will argue that this will just encourage people to live in places that are subject to weather disasters. The answer to that is simple. The payout for emergency response and reconstruction is a right— but the tax you pay into the fund varies by locality according to risk. Just like drivers with accidents pay higher insurance, so too can communities at greater risk pay more into the emergency trust fund.
It's time to stop fooling ourselves. Weather disasters can happen anywhere. The fundamental job of government is to protect people. We need to develop a routine, competent method of dealing with these emergencies. It must be funded nationally. New York City is not invulnerable to these impacts. The part of Brooklyn I grew up in was once part of Jamaica Bay. Lots of New York is built on old landfill. It can happen here. Let's hope it doesn't, but get ready just the same.