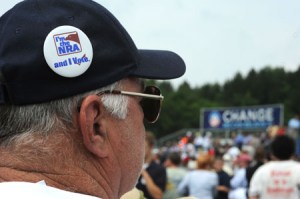 Jason Horowitz reports from Hillary Clinton's speech at a boys' high school graduation, where an actor from CSI gave her a $2,300 check on stage.
Barack Obama is going to Europe and the Middle East.
The pool report from the first weekend of total coverage of the Obamas describes a run-in with fire ants, a trip to Starbucks, and Michelle Obama as "slammin."
A trust overseen by Cindy McCain failed to pay the property taxes on a La Jolla apartment under its ownership, Newsweek reports.
The Washington Post looks at why Virginia is becoming bluer, and West Virginia redder.
The delicate balance between liberal and conservative judges on the Supreme Court could swing to the right if the next president is Republican.
"Wouldn't it be nice if we lived in a world where Roberta could just be Roberta?" asks L.A. Times reporter James Rainey in a profile of John McCain's mother.
McCain tries to make trustability an issue with Obama.
He also recreated his campaign bus as a plane.
Both Obama and McCain spoke to the National Association of Latino Elected and Appointed officials.
NALEO apologized after anti-war protesters heckled McCain–they added that those individuals are not members of the group.
The L.A. Times reports that Obama is moving to the political center.
The Washington Post notes that some people will see this shift as flip floppery.
McCain met with Billy Graham.
A Princeton scholar is trying to get to the root of the Obama-Muslim whisper campaign.
We are all Hussein, say some Obama supporters.
Darren Dopp wants to clear his name.
Talks with Consolidated Edison were suspended as the deadline approached last night.
The Democrat & Chronicle quotes a local commenter as saying of Steve Minarik's tenure as Monroe County Republican Chair,"Steve's us-versus-them creed worked when there were more us than them. There are now more them than us."
City Council pork is down eight percent over last year.
The mayor of D.C. follows Michael Bloomberg's lead on raising private money for public schools, and is criticized for it.
Queens officials wish the M.T.A. would use something a little more advanced than tarps to keep water out of the subway.
David Paterson had another eye surgery, but he still went to Pride.
Sullivan County is struggling with whether to allow natural gas drilling.
State parks made out relatively well in this year's budget.
Gowanus Lounge is reporting complaints about a potentially toxic work site in Brooklyn.
Labor may have reached an agreement with the city, but eminent domain opponents are still protesting the Willets Point development.
Steve Harrison has a new campaign manager.
In honor of Pride weekend, Talk Bronx considers its borough's growing gay community.