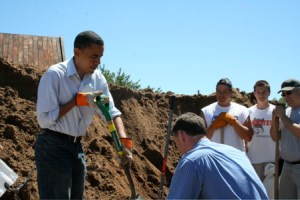 Meet the Press this morning was a tribute to Tim Russert, hosted by Tom Brokaw.
Howard Kurtz's Washington Post obituary says Russert "revolutionized Sunday morning television."
Politico collected some of Russert's memorable moments.
Jim Rutenberg writes, "Mr. Russert had become more famous than many of his interviewees."
At Virginia's Democratic Convention, Jim Webb took a few moments to remember the TV host.
David Remnick writes of Meet the Press during Russert's tenure, "[I]t was Gotcha at its highest form."
Barack Obama filled sandbags in Illinois (see above).
A pledged Hillary Clinton delegate from Wisconsin says she's going to vote for John McCain.
Mark Warner, former governor of Virginia, will not be Obama's running mate, he says.
Carly Fiorina, a McCain surrogate, tells a group in Ohio called Women for Fair Politics that Clinton was wronged.
McCain makes a play for Clinton supporters on a conference call.
Obama continued to express opposition to McCain's gas-tax holiday.
Planned Parenthood created a web video to educate people about McCain's position on women's health issues.
The Boston Globe looks at Michelle Obama's experience at Princeton and how it formed her racial identity.
John Edwards denied he wanted to be vice president, but much less emphatically than usual.
David Kirkpatrick reads the paper McCain wrote after he returned from being a P.O.W.
Black conservatives are, in some cases, leaning toward voting for Obama.
According to a Pew Research poll, voters no longer identify McCain as a reformer.
At some recent, intimate events, Obama has adopted "the Bill Clintonesque I-feel-your-pain message."
Rudy Giuliani says he's totally down to show up at G.O.P. fund-raisers, as long as he gets paid.
McCain canceled a fund-raiser with a guy who once made very offensive comments.
Susan Faludi thinks that even though both nominees are male, the gender war isn't over.
Florida's former Clinton supporters offer praise for Obama, but still want their delegations seated in full.
The Democratic senators who got preferential loans from Countrywide say they didn't know they were getting a special rate.
The Post reports that Al Sharpton's National Action Network receives donations from companies that are scared of bad publicity.
David Seifman reports that Michael Bloomberg is freezing his slush fund.
Dennis Kucinich is now involved in Atlantic Yards, for some reason.
Tom DiNapoli says the state needs to reform its brownfield program.
Melinda Katz thinks her ties to developers are an asset.
James Molinaro's discretionary spending is examined by The Daily News, which discovers he is seeding a winery project conceived by five of his donors.
The city and the unions said they have a deal on Willets Point.
Only the Blog Knows Brooklyn met Brad Lander, a candidate for the City Council seat currently held by the term-limited Bill de Blasio.
A second whistleblower says he was fired from the Department of Investigations for reporting wrongdoing.
A blogger compares NYRI's proposed powerline to a "Snickers bar frosted with rat poison."
The Utica Observer-Dispatch poses the same series of questions to Representative Michael Acuri and his challenger.
David Paterson's plan to cap property taxes isn't going to pass the legislature.
The legislature is "distracted, fractured and weary," writes Irene Liu.
The Times Union editorial board, siding with the New York Post and Fred Dicker, wants the Albany D.A. to release full transcripts related to his investigation into the Spitzer administration.
Republican Congressional candidate Frank Powers wants to stimulate the economy and cut "frivolous" government spending, but isn't providing details.
Steve Harrison makes an issue out of Mike McMahon's opposition to a 2003 City Council resolution opposing military action in Iraq.
A blogger at Daily Gotham questions McMahon's position on Iraq.
Vanishing New York reports from a protest against gentrification this weekend, where the slogan was "Die Yuppie Scum."