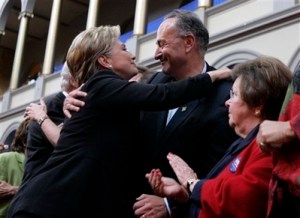 Here's the text of Hillary Clinton's concession speech.
Not many of her New York supporters showed up to hear her remarks, Josh Benson reports.
Anne Kornblut calls the speech "passionate" and mentions that Clinton expressed "no ambivalence" about endorsing Barack Obama.
Jay Newton-Small thinks "her rhetoric soared as high as any Obama speech."
Noam Scheiber calls it "gracious" and "winning. "
The New York Times says, "It was a dramatic — and at times theatrical [performance]."
Andrew Sullivan, who was satisfied by the speech, writes, "Clinton remains wedded to the identity politics of her generation and her time."
Dan Jacoby at Daily Gotham, to his own surprise, thinks "she rose above all expectations."
This blogger, a big Obama supporter, also liked it.
Peggy Noonan was, unsurprisingly, less impressed.
Here's Obama's response to Clinton's speech.
A pro-Clinton blogger finds reasons not to be satisfied.
Even Terry McAuliffe thinks it's time to move on.
The Times pinpoints May 6–the North Carolina and Indiana primaries–as the date Clinton's campaign crossed a point from which it could not recover.
Mark Penn explains, in a New York Times op-ed, what he thinks went wrong with Clinton's campaign.
Penn's essay is funny to some people. 
David Paul Kuhn names five reasons the Clinton campaign failed.
Congressional Democrats will adjust their legislative priorities to highlight Obama's agenda.
Jesse Jackson thinks Clinton has made a good case to be Obama's running mate.
Diane Feinstein maintains that Clinton won the popular vote.
Newsweek questions whether Obama's so-called "Jewish problem" exists.
The rapper Nas has a mixtape called "Black President" making its way around the internet.
Anthony Weiner backed Obama–finally, notes Liz.
So did Nita Lowey.
Clinton's web site went "Obamacentric," reports CNN.
Vanity Fair will issue neither an apology nor a retraction to Gina Gershon.
A blogger at fivethirtyeight thinks the electoral college is bad for the G.O.P.
Michael Bloomberg and ABC News have offered to host the first town hall debate between McCain and Obama–with Diane Sawyer as moderator!
The Washington Post devotes a lots of space to Bloomberg's political future.
David Seifman says Bloomberg hinted at wanting to repeal mayoral term limits.
Bloomberg said another M.T.A. fare hike is likely.
Adam Lisberg writes that the 35 term-limited City Council members are "as restive as high school seniors."
Mike Huckabee saved a man from choking this weekend.
Democrat & Chronicle commends David Paterson's choice of nominee to head the ESDC, but has some suggestions.
Bill Thompson's divorce is settled.
Graffiti arrests in New York are up by 28 percent.
The mood inside the city's threatened O.T.B. parlors this weekend was reportedly anxious.
The Bronx got a federal grant to cut down on diesel emissions.
Lost in the Ozone is encouraging people to contact legislators to protest cuts to the education budget.
According to Best View in Brooklyn, there are still grants available for people who want to take part in MillionTreesNYC.