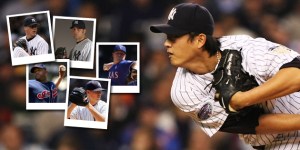 With Chien-Ming Wang on the shelf until at least September with a torn tendon in his foot, the Yankees are scrambling to replace one of the few givens in their 2008 rotation. The Wang Replacement Derby is wide-open—expect plenty of quick hooks and Plan B's until New York settles on a pitcher—or trades for Cleveland's soon-to-be free agent ace, C. C. Sabathia. Here is a guide to the likely participants, in predicted order of usage:
Dan Giese
If possession is nine-tenths of the law, then Giese has the inside track on the position, having taken Wang's spot the first time through the rotation Saturday against Cincinnati. His numbers were superficially effective: 6 2/3 innings, no earned runs, no walks, and five strikeouts. But that lack of earned runs resulted from the fact that Giese's three runs allowed came following an error—not from Giese's dominance.
Certainly, though, Giese's turn earned him another start, likely Friday night against the Mets. And the 31-year-old career minor leaguer has displayed the ability to throw strikes—in 656 and 1/3 minor league innings, Giese has walked just 1.7 hitters per nine innings.
Sidney Ponson
Should Giese falter, the other scheduled starter in Friday's two-stadium doubleheader with the Mets, Sidney Ponson, is likely to get a chance at regular rotation work. Ponson's prospects are not particularly bright, though he did post a 3.88 ERA in 55 innings for Texas this season, 6 percent better than league average.
But Ponson was released by the pitching-poor Rangers for an undisclosed conduct issue, a repeated problem for the rotund Aruban. And given both his uninspiring strikeout rate and his season ERAs since 2004—5.30, 6.21, 6.25, 6.93—it is unlikely that the Yankees have found their new Wang in Sidney Ponson.
Jeff Karstens
One of the pitchers the Yankees tried in 2007 prior to signing Roger Clemens, Karstens is back at AAA and threw a gem on Sunday—6 and 2/3 innings, one walk, 11 strikeouts. If his outings approximate that level of success, the Yankees might give the 24-year-old another shot in the rotation.
However, Karstens has been extremely hittable in his 57 and 1/3 career major league innings—he allowed 10 home runs and 67 hits, and posted a 5.65 ERA. There is little indication he is much more than a AAA pitcher.
Alan Horne
When tried-and-failed doesn't work, the Yankees can turn to not-quite-ready. Alan Horne may well be in the latter category. Injuries limited his effectiveness until 2007, when he had a 3.11 ERA and 165 strikeouts in 153 and 1/3 innings for AA Trenton. But in 2008, injuries have limited him to just five starts for AAA Scranton-Wilkes Barre. He has been impressive in those 24 innings, with 22 strikeouts and a 3.70 ERA.
But the Yankees know all too well that pitchers can struggle when making the jump to the major leagues. And with Horne a likely trade chip if New York attempts to add around the trading deadline, the Yankees may be better off, for marketing purposes, letting Horne pitch well at AAA.
C. C. Sabathia
Which brings New York to the best pitcher likely to be dealt in 2008, C. C. Sabathia. The reigning American League Cy Young Award winner (and soon-to-be free agent) has seen his numbers drop a bit from last season's 3.21 ERA and 37 walks against 209 strikeouts in 241 innings. But that is largely a function of his 7.88 ERA in April—in May and June, his ERA has been 2.44 and 2.40, respectively.
If acquired by New York and signed to a long-term contract, Sabathia, just 27, would provide New York with an ace to pair with Joba Chamberlain, giving the Yankees the frontline starters they have lacked throughout their recent October failures. He'd provide an anchor in front of Chamberlain, Hughes, Wang and, should he develop, Kennedy. And both his outward competitiveness and close relationship with his mother should play well with the New York media.
The downside to Sabathia is that he has a large amount of mileage on his arm at age 27—including the 241 innings last season—and he's not in classic baseball shape, unless that refers specifically to the shape of a baseball.
But New York's improving offense, revelatory pitching by Joba Chamberlain, and Indian summer renaissances by Mike Mussina and Andy Pettitte have the Yankees in position to get to October, should Sabathia be brought on board.
And the other alternatives fall well short of that.
(Not mentioned: Ian Kennedy—too soon. Kei Igawa—too awful to contemplate.)