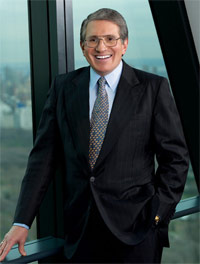 So Victor Ganzi quit as CEO of Hearst yesterday, and with some shades of Jane Friedman's departure from HarperCollins, no one really knows why.
In The Times, Richard Pérez-Peña writes that "Mr. Ganzi's fall after six years came as a surprise to executives at Hearst and some of its major joint venture partners, and to investment bankers who track the company closely." Likewise, Keith Kelly reported that it was a "move that stunned many inside and outside the far-flung media empire." And: "I am stunned. I am honestly shocked," said one executive to Kelly.
It is Hearst, a traditionally non-leaky place, so the fact it's a surprise isn't much of a surprise. So let's get to the stats. The company still has huge revenues, and magazine revenue rose 6 percent last year. But naturally, these are tough times. Per Kelly:
With Ganzi out, the privately held company, which is believed to have annual revenues of around $4 billion, must figure out to how to survive in the digital age.
Its most profitable segment has been its 20 percent stake in ESPN, which is controlled by Walt Disney Co.
Its most profitable magazine is Cosmopolitan, followed by O, the Oprah Magazine – which is run as a joint venture with Oprah Winfrey's Harpo Productions – and the industry stalwart Good Housekeeping.
But all three titles are suffering this year. In the first half, Cosmo's ad page count tumbled 15 percent to 790. O was down 7 percent to 877 and Good Housekeeping was down 1 percent to 813 ad pages.