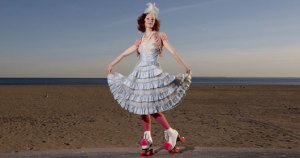 Coney Island merchant Dianna Carlin continues her quest to reopen her Lola Staar Dreamland Roller Rink in the abandoned Childs Restaurant building with the first of two fund-raisers tonight.
Ms. Carlin is trying to raise the necessary funds for an assembly permit to cover the whole 60,000-square-foot building — the cost of which is considerable.
Tonight's benefit, a 1920s-themed soiree with 3-D projections of Coney Island's heyday, takes place at 8 at Peggy O'Neils at 1904 Surf Avenue.
The second benefit is a burlesque show, including a performance by Brooklyn's own Angie Pontani, scheduled for 8:30 p.m. on Monday, June 15, at Superfine, 63 York Street, in Dumbo.
Suggested donation for each event is $10 to $20.