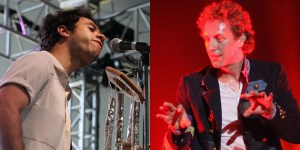 In 2008, a big day for record sales is a relative thing, for the majors and the indies alike. Physical sales are lower than ever, even for superstars; bands routinely crack Billboard's top 10 with sales barely in the five digits. But today is a big day in the record industry.
Coldplay's newest, Viva la Vida, hits stores today; there are high, high hopes for the album. The band that broke with "Yellow" way back in 2000 has had a couple of smash records since then, A Rush of Blood to the Head in 2002 and X & Y three years later; they're as close to the sure thing (U2) as the record industry gets these days. But there's another band whose latest effort may tell more about what the future of the recording industry looks like. Critical darlings and indie-label superstars Wolf Parade puts a second album in stores today, too.
Coldplay will almost certainly eclipse Wolf Parade's entire career album sales with ease this week, perhaps even today. But the reason the majors are watching Coldplay is to see whether the band can help buoy its foundering label, Capitol, and whether the big-business end of the recording industry can still sustain itself.
Will 300,000 records be enough of a shot in the arm? 500? A million? One industry player recently opined to me that most of the giants would close shop, or minimize in the extreme, by Christmas. No, Viva la Vida won't rescue Capitol. The album is an industry death-throe.
For Wolf Parade, the numbers may be smaller but the stakes, in a sense, are exactly the same. All Wolf Parade's label Sub Pop needs is to burnish its credentials and sell enough copies to pay for the album's production, keep acquiring, and keep ahead of the scene. If they're tastemakers, they'll stay alive. Indie success stories like Wolf Parade labelmates the Shins and the Postal Service have sparked sales levels approaching the old standbys, to the point where the term "major" seems to have permanently lost its luster. Yet it's that taste factor that is crucial, and Wolf Parade's sales this week, this month, and this year as they hit the ground touring, will determine whether indie labels still have a business plan, too.
Coldplay's last album, a middling throwaway titled X & Y, from 2005, was one of the biggest opening week sellers of all time for Capitol. When their first hit, "Yellow," broke, the band had the patina of fresh-faced post-Britpop upstarts, but by now they're one of the biggest bands in the world. Frontman Chris Martin is married to Hollywood princess Gwyneth Paltrow. They play stadiums. They use expensive, lauded producers. Their actual music gets played on MTV. Coldplay is a big deal. And Capitol records is short on big deals these days.
Wolf Parade is a big deal in a much smaller pond. The Montreal band's 2005 debut, Apologies to the Queen Mary, was furiously hyped, especially in the word-of-mouth machine of blogs. Thanks in part to Internet crowing, in part to tireless touring, in part to famous friends like the album's co-producer, Isaac Brock (Modest Mouse) and hometown compatriots Arcade Fire (perhaps the greatest indie success in the past couple of years), Apologies sold nearly 100,000 copies. Small potatoes to Capitol Records but a career-maker in the indie world.
Perhaps more importantly, the band finds itself sustainable; profitable to the label, and profitable to the band members, plus creatively free enough to stay vibrant, stay relevant. Sustainability is why the Sub Pops of the world are on the wax, sales rising, while the majors are on the opposite track.
Viva la Vida is a good record, capitalizing on the band's traditional strengths: cinematic crescendos, bravura proclamations from singer Martin. There are two potential singles here, the repetitively triumphal title track, the anchor of the band's promotional iTunes commercial; and the infectious, if oddly out of place "42". Brian Eno produced, bringing a touch of class along with keyboard drones, orchestral sweeps, Middle Eastern accents, and a note of experimentalism.
Yet despite, or perhaps because of the big-name producer, the months of studio time, the high profile of the band itself, what Coldplay has produced is something that smacks of development, and shuns formula. Uh, oh. The bean counters are sweating. There are few obvious hooks here; the guitars are used more often for washes of color and mood than pivot points. What the hell?
What has defined the band more than anything, lead singer Chris Martin's voice, remains the focal point, but it has been reigned in from the overdone falsettos and extraneous wails of yore. Instead it floats about, sometimes exultant, sometimes histrionic, but always with a sense of purpose. Songs range from first-person narratives to ethereal plaints, but there's a note of increased seriousness and maturity to all of it, and of chance-taking too. The band didn't simply recycle its hits. This is to the credit of Viva la Vida. But perhaps not to the credit of Capitol Records.
Wolf Parade didn't bring in the big producer. In fact it was one of the main things the band sought to avoid on the record, titled At Mount Zoomer.
"We knew we weren't going to follow that post-millennial indie plan, getting a big producer and churning out something glossy and boring," singer and guitarist Dan Boeckner said from a sweltering studio in Montreal. "We had to take a step back and look at what Wolf Parade had become. There's a super-fast turnover on bands that are hyped, and we're focused on not presupposing what the audience wants from us. This album may be less immediately gratifying, but it's also not predetermined from like, aggregating our most popular songs from the first album, or taking what the fans liked most and just copying that."
Indeed Boeckner and the band smoothed out some of the ragged edges that defined their debut, replacing jittery psych-folk and pummeled teutonic drums with speedy, jammy, prog-tinged ramblers, plenty of sprawling, mid-tempo slow-burns, and even a waltz with an icy, post-punk vocal. Boeckner's songs on the album (vocal/lyrical duties are split pretty much down the middle between him and the band's other singer, Spencer Krug) center on time he spent touring and wandering about Eastern Europe with his wife. Industry on a massive scale, urban desolation, the end of empire, coldness. It's pretty rich stuff, and certainly works for the band's penchant for epic-ness.
Boeckner explained that the band laid tracks mostly live, avoiding the overworked messes that can arise from using Pro Tools editing software or fixing individual words in vocal lines. He spoke passionately of doing "The wrong thing in the right way."
The album sounds great, and fresh for the band, as they've discarded the anxious staccato of the debut for a smoother, tighter sound, less-ragged vocal turns, and more attention paid to melodies. The band's sheer creative freedom, and freedom to move away from its proven success recipe, would be remarkable if it weren't so typical of nearly all bands except those like Coldplay, those still expected to play for the corporate team.
"You take someone like Will Oldham," Boeckner said, providing an example of an indie artist thriving without compromise, "who can put out an album about every year, and play shows that people will come to, and be expected to sell reasonably well. That's what you want."
And while it's been hard to turn on a TV and not see Coldplay preening on that iTunes commercial, no doubt brokered by dozens of marketing department bigwigs and the exchange of millions, Wolf Parade makes its own marketing decisions, with licensing having gone to the Sci-Fi Channel, Veronica Mars, and Rescue Me. Yet it isn't a frenzied race to the licensing deal, and Boeckner w
as thrilled that the band could take it "case by case."
Boeckner's other band, Handsome Furs, was asked to be on a Nike compilation for the Beijing Olympics.
"I know good bands that are going to be on that comp," he said, "but for us it was just something we didn't want to be a part of, it was personal, and that's all it can be."
It's not so much a matter of principle as of freedom of choice, and freedom from the tyranny of sameness. As more bands are able to survive on their music, and survive by their own rules, the allure of the big leagues is fading to a memory. Yet while the whims of the blogosphere may or may not turn against Wolf Parade, the band seems confident that not remaking the last record was the right thing to do.
When I asked if the majors had ever come calling for Wolf Parade, Boeckner laughed.
"Some guy from Sony showed up to our show in New York, and he talked to me and Spencer separately and told us different things, all this shit. It was like a caricature of a label guy, just trying to play angles and tell us how amazing we were, but like, I can't imagine why anyone would sign to a major label deal now? Who would do that?"
It's a question the majors should have asked themselves a long time ago, but inherent in the question is also the plus side of this ongoing shake-up. Power is passing, more and more, from the labels to the artists, and the resulting freedom, creativity, and room to breathe is a pretty amazing thing.