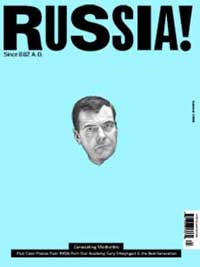 Media Mob just received the Summer 2008 issue of Russia!, the premier glossy for hip, young people of Russian descent. The cover features a striking drawing of newly installed Russian president Dmitry Medvedev, whose eyes seem to follow you across the room. Russia! editor Michael Idov penned the accompanying story, Meet the New Boss.
For the subset of people still fascinated by the personal life of former Gawker editor Emily Gould, her story on young Russian novelists—including, as her former website gleefully pointed out her ex-boyfriend, novelist Keith Gessen—is given a seven-page spread and the great headline, The Beet Generation.
From Russia!'s press release:
"The most spectacular thing about this issue," says Editor-in-Chief Michael Idov, "has to be the matching of material to author. Khrushchev's great-granddaughter writes about the man who once printed 'Khrushchev Not Welcome Here' stickers. The New Yorker's Julia Ioffe chats with a porn star. And Manhattan's current succès de scandale, Emily Gould, conclusively proves that she can write about people other than Emily Gould."
Sounds good to us. Here's Ms. Gould's lede:
In a
sun-dappled café
on Manhattan's Lower East Side, it's getting toward the end of my lunch with author Gary Shteyngart and I still haven't gotten up the nerve to ask him what I think is my most important question, mostly because I can't figure out how not to make it sound like an insult. I want to know whether he has noticed that Russian immigrant authors—especially writers who, like him, write explicitly about Russia and Russianness—are So Hot Right Now, and why he thinks that is. I take another bite of the brownie sundae we're sharing (he'd insisted on dessert, even though, he says, "my cholesterol is something out of science fiction") and just put it out there. He pauses, but only momentarily. "There might be an overkill now," he hazards. He mimes the action of someone picking up a book—"Another Russian writer!" and putting it down in disgust.