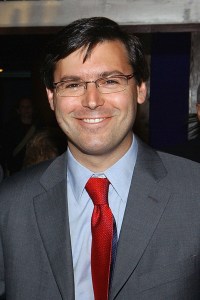 Here's an invitation for a David Yassky fund-raiser tonight on the Upper West Side.
One of the event's hosts is Andrew Tomback, a long-time Yassky contributor who has also given some money to Eric Gioia and, once, back in the day, to Alan Hevesi.
Other notable names include John Alschuler, who has contributed to progressive Democrats like Mark Green and Ruth Messinger. Alschuler has also given money to another comptroller candidate, Melinda Katz ($250 on July 7, 2007).
And there's also Charles Simon, who ran in a special election for an Assembly seat, but was defeated by Linda Rosenthal.
In the five-way Democratic primary for comptroller, none of the candidates are from Manhattan, theoretically putting the borough's rich supply of (rich) donors and voters up for grabs. That might change if someone like, say, Scott Stringer jumped into the race. But so far, he hasn't made any public moves to do so.
The current comptroller candidates are from Brooklyn (Yassky and Jim Brennan), Queens (Melinda Katz and David Weprin) and the Bronx (Adolfo Carrion).